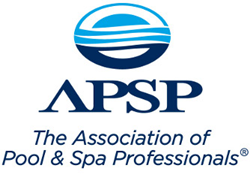 ALEXANDRIA, VA (PRWEB) February 11, 2015
The Association of Pool & Spa Professionals (APSP) today announces the launch of the first virtual course offered by APSP University. The Pool & Spa Construction Course (PSCC) will be held for six consecutive Wednesdays, beginning March 18, from 9 a.m. to noon ET.
The PSCC, a key step in becoming certified, is perfect for novice and experienced pool and spa builders as well as designers who seek to learn more about pool and spa construction. The course will be led by industry expert Bob Blanda, CBP Certified Building Professional®, CST Certified Service Professional®. Participants in this course will have a thorough review of content contained in the APSP Pool Builders Manual as well as vital information on how to conform to industry standards. The course will cover all types of pool, spa and water feature construction and will review the entire building process in detail from design and layout to pool and spa start-up.
Participants will earn 24 APSP CEUs upon completion of the course. Individuals with at least 5 years of industry experience will be eligible to take the exam for the CBP Certified Building Professional designation, the highest level of certification the pool & spa industry offers. The exam must be taken at a proctored location which can be arranged by APSP University staff.
"APSP University is designed to bring our educational offerings to as many professionals as possible," said APSP President and CEO Rich Gottwald. "Virtual courses allow industry newcomers and experienced professionals to access our educational content in a new format that fits their busy schedule. Unlike traditional online courses, virtual classrooms allow attendees to interact with the instructor and ask questions, giving attendees a more complete online educational experience."
Additional virtual courses include:

International Pool & Spa Code (April 15)
Water Testing (May 13)
CMS Certified Maintenance Specialist (Beginning June 10)
CST Certified Service Technician (Beginning July 8)
CHTT Certified Hot Tub Technician (Beginning August 12)
For more information on the virtual classroom and other educational offerings, or to sign up, please contact APSP University by email at apspuniversity(at)apsp(dot)org or by calling 703-838-0083.
•••
About APSP
The Association of Pool & Spa Professionals (APSP) is the world's oldest and largest association representing swimming pool, hot tub, and spa manufacturers, distributors, manufacturers' agents, designers, builders, installers, suppliers, retailers, and service professionals. Dedicated to the growth and development of its members' businesses and to promoting the enjoyment and safety of pools and spas, APSP offers a range of services, from professional development to advancing key legislation and regulation at the federal and local levels, to consumer outreach and public safety. APSP is the only industry organization recognized by the American National Standards Institute to develop and promote national standards for pools, hot tubs, and spas. For more information, visit APSP.org.
Connect with APSP on Twitter, Facebook, YouTube and AQtheMagazine.com.
About Bob Blanda
Bob Blanda, CBP, CSP, is the president of Mill Bergen Pool Center in Brooklyn, New York. He currently serves on the APSP board and is the chairman of the APSP Builders Education Committee. He was honored in 2014 as the CBP of the Year and as an APSP Fellow. He is also a past president of the Metro NY/NJ Chapter of NESPA.