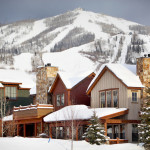 We are pleased to be able to expand our luxury rental program
Steamboat Springs, Colorado (PRWEB) February 12, 2015
Steamboat Springs, Colorado, is a perennial favorite of the snow gods every year, but in this 2014-2015 ski season of off and on storms in the West, Steamboat once again has received a timely powder dump.The Porches of Steamboat, a neighborhood of signature luxury townhomes located near the base of the ski mountain, has announced both an increase of available units in their rental program and a 15% discount for the remainder of the season. "We are pleased to be able to expand our luxury rental program" said Porches General Manager Emilie Crider. "Our larger homes, the 4,000 and 5,000 square feet units, have been in demand for extended families and multiple families who like to ski together, so in our neighborhood, we see these generations and collections of families able to all come out at once and be under the same roof. Our largest homes will sleep up to 14 people." The Porches' rental program includes homes from 3,000 square feet to 5,000 square feet, with spacious common areas, gourmet kitchens, game rooms with a pool table, complimentary Wi-Fi, several flat screen TVs in every unit, and garages.
Steamboat Springs is a refreshing anomaly in the wide spectrum of snowy Colorado vacation resorts. Located northwest of Denver just over the Continental Divide via Rabbit Ears Pass, the ski area is situated on Mt. Werner. Originally this area was all agricultural, with acres and acres of ranch land. Today it is a point of great pride with the locals that Steamboat remains a "cowboy town", a friendly and down-to-earth family destination. In recent years the demand for more upscale lodging was answered by building modern, more high-end hotel rooms and condos, but the opening of a 16 acre neighborhood called The Porches of Steamboat offered luxury townhomes with unprecedented size and interior spaces. "My partner and I had skied in all the resorts in Colorado, and our research showed that what families need when they come for a long ski week is space, places to put clothing and equipment, and places where all can gather at once," said Porches owner Bruce Shugart. "Plus, we wanted our neighborhood to be a retreat for all four seasons. It's hard to pick a 'favorite' time in these beautiful mountains."
March and April are traditionally two of the snowiest months in Colorado, and Spring skiing under bright sun and bluebird skies makes these later months some of the most desirable weeks to book. Steamboat Springs, with some 13 feet of snow on the ground and with discounts on luxury rentals could be the ski mountain of choice for the serious powder hounds this season.
About The Porches at Steamboat Springs
The Porches is a neighborhood of homes located close to the base of the ski mountain in Steamboat Springs, Colorado. These high end, thoughtfully crafted homes range in size from 3,000 square feet to 5,000 square feet and they feature hand-hewn beams, professional kitchens, the finest cabinetry, custom ranch stone fireplaces, and of course, comfortable and inviting porches. These luxury homes are available for whole and fractional ownership, and as luxury rentals.
Media contact:
Laurie Tucker, Resort Specialist
The Porches at Steamboat Springs
2096 Indian Summer Drive
Steamboat Springs, CO 80487
866.992.0600
info(at)theporches(dot)com