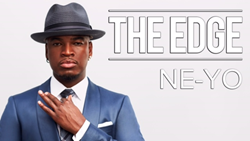 Los Angeles, CA (PRWEB) February 11, 2015
DanceOn, the leading multi-platform dance network co-founded by Madonna, today announced that the next episode of its hit original series, "The Edge," will debut featuring Ne-Yo's new video for "Coming With You." The episode premiered on February 10, 2015 on DanceOn's official YouTube channel.
"So excited to showcase my video 'Coming With You' off my new album Non-Fiction as part of DanceOn Network," said Ne-Yo. "The coolest part is it gives my fans a behind the scenes look at the hard work my talented dancers and amazing choreographer, Jamaica, put in to delivering a incredible visual to my music!"
"This episode, the second of our new season, features our first R&B superstar on 'The Edge,'" said DanceOn CEO Amanda Taylor. "This episode really looks at the stories of the dancers featured in the video – Kylie Lewallen, Saidah Nairobi, Della Hamby and Jasmine Harper, as well as choreographers Jamaica Craft and Oth'Than – and their experiences on the set."
"The Edge" is a celebrity docu-series showcasing the world's most iconic music videos, tours and performances. Each episode spotlights a major music artist and their creative, bringing to life the untold stories of the people behind the music. The series' second season premiere, featuring Sia's "Elastic Heart," marks the series largest viewership ever, logging more than one million views.
About DanceOn:
Co-founded by Madonna, CEO Amanda Taylor, Guy Oseary and Machinima CEO Allen DeBevoise, DanceOn was selected as part of YouTube's $100 million original content initiative and established itself as one of the top 10 premium YouTube channels. From reality competitions to docu-series, from scripted shows to user-generated content, DanceOn creates engaging programming, reaching a network of over 15 million users across social channels.