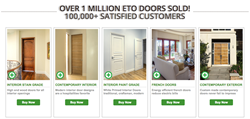 ETO is now selling direct to the end consumer at prices below wholesale and consumers have the ability to now buy factory direct.
LOS ANGELES, Cal. (PRWEB) February 12, 2015
ETO Doors, purveyor of fine interior and exterior entryways since 2002, proudly announces the launch of their 2015 line of doors. A large inventory of front entry doors, garage doors, interior doors, wine cellar doors, and wrought iron, and hand carved doors are hitting the showroom floors at ETO locations as well as ETO Doors' online store. As an industry pioneer, ETO has brought its clientele doors for purchase online for more than a decade. The new 2015 inventory brings the same timeless class and style that ETO has come to be known for with additions in categories such as knotty Adler, mahogany, oak, wrought iron, and customized doors.
ETO Doors has also revamped their selection of side lites, transoms, and door accessories for 2015. Online buyers can expect to see a healthy number of additions to ETO's fiberglass doors as well as exterior fire and impact rated doors to ensure the highest level of at-home safety for those who need it. ETO has also come to be known for their selection of Dutch doors, pocket doors, and a peerless selection of craftsman doors available in new wood selections for 2015. Escon Doors are a fan favorite, leading in sales across the ETO online storefront—new additions here will be relevant for 2015 sales as well. On top of their new products, ETO is now selling direct to the end consumer at prices below wholesale and consumers have the ability to now buy factory direct.
ETO Doors has a substantial selection of door styles and wood, fiberglass, and wrought iron varietals, but also brings consumers a team of woodworkers specializing in doors and side lites. Customers who have a very specific idea in mind for their entryway can work in tandem with ETO's custom design team to create interior, exterior, garage doors and more to meet the specs of their home, budget, and design ideals.
ETO Doors is an eco-friendly purveyor of doors and door accessories and is committed to bringing both on and offline customers the highest quality doors at a budget-friendly price. ETO Doors is based in Los Angeles, Calif., with satellite showrooms in Las Vegas, Nevada, and Hicksville, New York. ETO Doors has been operating since 2002 and has been recognized by the Forest Stewardship Council and EnergyStar as an environmentally friendly brand. The new lines of doors for 2015 are manufactured very much in keeping with ETO's promise of making homes and commercial spaces greener. More than 100,000 satisfied customers served across ETO's online store and locations across the US.