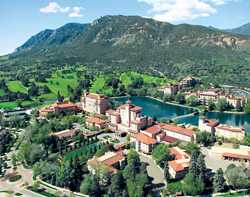 . "I believe this is a testament to our employees' commitment to service and enthusiasm for unparalleled service."
Colorado Springs, Colorado (PRWEB) February 11, 2015
The Forbes Travel Guide unveiled its annual Five Star award list, honoring The Broadmoor in Colorado Springs for a record 55 consecutive years. The Broadmoor is honored alongside a prestigious list of the very best hotels, restaurants, and spas in the travel industry.
The Penrose Room restaurant and The Spa at The Broadmoor also each received Forbes Five Star awards for the sixth consecutive year, making The Broadmoor the only triple Five Star award-winning property in Colorado. This recognition further strengthens The Broadmoor's position as a leading luxury destination in the United States.
"We are honored to once again receive the prestigious Forbes Five Star Award and for our hotel, spa, and Penrose Room restaurant to be recognized as among the finest in the world," says Broadmoor President and CEO Jack Damioli. "I believe this is a testament to our employees' commitment to service and enthusiasm for unparalleled service."
A gold standard in travel since 1958, the Five Star ratings process is based on more than 750 standardized criteria for hotels, making it the most rigorous and comprehensive in the industry. The process begins with a facility inspection that considers every aspect of the property, including its overall cleanliness, condition, and location. To achieve Four and Five Star Status, properties must meet or exceed bar-setting service standards that are determined through an unannounced, undercover service evaluation conducted by the Travel Guide's expert inspectors.
For a detailed explanation of how Forbes Travel Guide compiles its Star ratings, visit http://www.startle.com.
About Forbes Travel Guide
Forbes Travel Guide, deriving from a strategic partnership between Forbes Media LLC and Mobil Travel Guide formed in October 2009, offers the prestigious Five Star ratings and certifications. This exclusive licensing agreement between two industry leaders with more than 140 years of combined experience transfers the hospitality industry's premier star rating and travel guide brand from ExxonMobil to Forbes, an award system which has provided the most comprehensive ratings and reviews of hotels, restaurants and spas since 1958. Forbes Travel Guide has a team of expert inspectors who anonymously evaluate properties against rigorous and objective proprietary standards, providing consumers the insight to make better-informed travel and leisure decisions.
About Forbes Media LLC
Forbes Media encompasses Forbes and Forbes.com, the #1 business site on the Web that reaches on average more than 17 million people monthly. The company publishes Forbes and Forbes Asia, which together reach a worldwide audience of more than 6 million readers. It also publishes Forbes Life magazine, in addition to licensee editions in China, Croatia, India, Indonesia, Israel, Korea, Poland, Romania, Russia and Turkey.
About The Broadmoor
The Broadmoor is the longest consecutive winner of the Forbes Five Star awards for excellence. Situated at the gateway to the Colorado Rocky Mountains in Colorado Springs, the total resort encompasses 5,000 acres, with three championship golf courses, a spa, salon and fitness center, nationally recognized tennis staff and program, 26 retail boutiques and 19 restaurants, cafes and lounges including Colorado's Forbes Five Star restaurant, Penrose Room. The new "Broadmoor Wilderness Experience" encompasses The Broadmoor's Ranch at Emerald Valley and Cloud Camp, as well as Seven Falls and The Broadmoor Fishing Camp (both opening in 2015). Colorado Springs is serviced with non-stop flights from 11 US cities via Alaska Airlines, Allegiant, American, Delta and United. With connections to worldwide destinations, Denver International Airport hosts more than 1,600 national and international flights daily.
The Broadmoor is a member of Preferred Hotels and Resorts and Historic Hotels of America. For more information on The Broadmoor, please call 800.755.5088 or visit http://www.broadmoor.com.
High resolution images are available in the newsroom at http://www.broadmoor.com; log in and password provided on request.