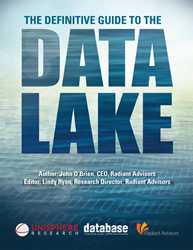 This is a big concept with the power to transform information management.
New Providence, N.J. (PRWEB) February 11, 2015
Unisphere Research and Radiant Advisors today announced the publication of a brand new report on the emerging concepts and strategies surrounding the data lake. By combining an analysis of fundamental information management principles with existing big data implementations, this report shows how current data architectures will transform into modern data platforms.
"Many companies recognize the value in Hadoop and a data lake strategy, however when they look for prescriptive information what they find instead are warnings and discouragement," says John O'Brien, CEO of Radiant Advisors. "We wrote the Definitive Guide to the Data Lake to provide guidance to those considering the data lake by sharing the findings of companies within our research and advisory network that are actively implementing data lake strategies today."
"Similar to the advent of data warehousing and cloud computing, there has been a lot of hype surrounding the concept of the data lake, as well as a lot of confusion," remarked Thomas Hogan, publisher of Unisphere Research and Database Trends and Applications. "This is a big concept with the power to transform information management. What IT and business stakeholders need to effectively evaluate and adopt this approach is a roadmap for getting there and getting value."
This Unisphere Research report was sponsored by industry-leaders Hortonworks, MapR, Teradata and Voltage Security.
To download a complimentary copy, click here.
About Unisphere
Unisphere Research, a division of Information Today, Inc. (ITI), is a market research company that conducts proprietary and custom research projects in conjunction with the top data management and IT user groups, as well as with other leading-industry communities. Unisphere has pioneered user group-based research and has built its editorial products in conjunction with its user community-based market insight. Visit http://www.unisphereresearch.com or follow @dbtrends.
About Radiant Advisors
Radiant Advisors is a leading strategic research and advisory firm that delivers innovative, cutting-edge research and thought-leadership to transform today's organizations into tomorrow's data-driven industry leaders. Visit http://www.RadiantAdvisors.com or follow online @RadiantAdvisors.