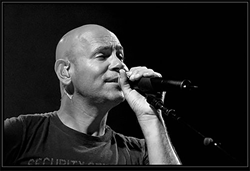 "We are so honored to be bringing this Israeli superstar to Baltimore," says Randi Benesch, Managing Director of the Gordon Center. "This will be a magical evening in the Gordon you don't want to miss."
OWINGS MILLS, MD (PRWEB) February 11, 2015
Thursday, March 19, at 7:30pm, the Gordon Center for Performing Arts plays host to Israeli pop legend Rami Kleinstein. Kleinstein, often compared to Elton John and Billy Joel, is both a composer and a performer, best known for his beautiful love songs, soothing voice and delicate piano-playing.
Kleinstein's performance will feature a selection of original songs from his enormous personal repertoire. A native New Yorker who made Aliyah (emigrated from the U.S. to Israel) with his family at the age of eight, Kleinstein aptly and cleverly weaves his songs together with rich anecdotes laced with humor, providing his audience with insights into his life as well as fragments of Israeli history.
Israel's most popular contemporary singer and musician is widely known as Israel's "Piano Man," for his tender love songs, penetrating voice, and intense piano playing. He has earned triple-platinum albums for both pop and soulful ballads, not to mention numerous accolades for his unforgettable live shows. Hear him perform here https://www.youtube.com/watch?v=QClcG1Nb0Co
The Kleinstein performance is In Partnership with the Baltimore Israel Coalition.
According to Coalition Chairs Jason Blavatt and Ellen Ginsberg Simon, "The Coalition aspires to unite our Community, and is proud to be a partner as we celebrate a remarkable illustration of Israel's lively spirit, dynamic culture and artistic contributions. We hope that this concert appeals to our vibrant Israeli community and brings diverse people together for something truly joyful."
"We are so honored to be bringing this Israeli superstar to Baltimore," says Randi Benesch, Managing Director of the Gordon Center. "This will be a magical evening in the Gordon you don't want to miss."
Tickets are $30 in advance; $34 at the door and may be ordered online at http://www.gordoncenter.com. The Gordon Center is located on the campus of the Rosenbloom JCC at 3506 Gwynnbrook Ave., Owings Mills, MD 21117. The Box Office can be reached at 410.356.7469.
###
The Peggy and Yale Gordon Center for Performing Arts is Baltimore County's premiere arts destination. The Gordon Center offers an eclectic variety of professional entertainment in music, theater, dance, family programming and film. You will experience world-class acoustics in an intimate, state-of-the-art venue. Free parking in well-lit spaces, handicap accessible, and equipped with a special RF system for the hearing impaired, the Gordon Center can be enjoyed by all.