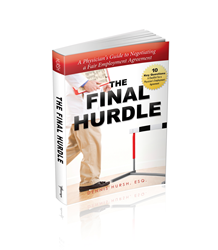 MIDDLETOWN, PA (PRWEB) February 12, 2015
Dennis Hursh is an attorney who has provided legal services to physicians for more than three decades and, as author of "The Final Hurdle: A Physician's Guide to Negotiating a Fair Employment Agreement," offers doctors and their attorneys assistance in reviewing physician employment agreements.
"Doctors are smart and they know it, but they don't have the legal expertise or experience to acquire the best possible contract from hospitals and other healthcare employers," says Hursh, an attorney who has been helping physicians for decades.
"A physician's contract can involve hundreds of thousands of dollars and will impact his or her lifestyle for years to come. You should always hire an attorney who is experienced in physician employment agreements to assist you through these life-altering negotiations. However, if you choose to use a general practitioner, 'The Final Hurdle: A Physician's Guide to Negotiating a Fair Employment Agreement' can help you and your attorney identify pivotal provisions in your contract."
Physician employment contracts are neither fair nor simple. If a doctor and his or her attorney are not informed, they can be leaving thousands of dollars on the table in benefits and other compensation, he says. Moreover, a lack of knowledge about physician employment agreements can also make doctors fall into common traps, even with the assistance of an attorney.
Physician employment contracts are not written to protect and benefit the physician; they are written to protect the interests of the employer, says Hursh, who adds "The Final Hurdle: A Physician's Guide to Negotiating a Fair Employment Agreement" levels the playing field.
"As an attorney and the wife of a physician, I can attest that 'The Final Hurdle' is a wonderful resource for both attorneys and physicians alike," writes Amazon reviewer Margarita C., who gave the book five stars.
"It goes into great detail to explain the major issues that often arise in physician employment contracts while comprehensively explaining all the legal caveats in a way that physicians will be able to understand. Furthermore, it serves as a practical and informative guide to physicians who are just beginning to embark on their employment search. Not only does this book explain legal concepts, it also accurately discusses various practice models, the pros and cons of different compensation options and many other issues involving the practice of medicine."
About Dennis Hursh
Dennis Hursh has been providing healthcare legal services for more than three decades. Since 1992, he has been managing partner of Hursh & Hursh, P.C., http://www.PaHealthLaw.com focusing on physicians and medical practices. He is a member of the American Health Lawyers Association, where he is involved in the Physician Organizations Practice Group.