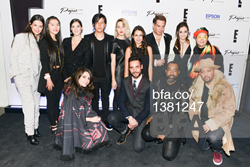 "The Future is now and technology continues to push the fashion industry forward and inspire creativity and innovation"- Augustin Chacon, VP of Subsidiary Sales and Operations
New York, NY (PRWEB) February 12, 2015
EPSON: THE FUTURE OF FASHION
Celebrities Analeigh Tipton, Jessica Stroup, and Lilla Crawford were joined by Sergio Arau, Julie Henderson, and Cory Kennedy for an exclusive presentation showcasing the perfect marriage between Fashion and Technology, sponsored by Epson.
Epson, a global leader in printing imaging technology, unveiled its latest textile printing innovation during New York Fashion Week this February. Eleven selected designers from the Americas showcased collections created using Epson's new state-of-the-art technology: digital dye sublimation printing.
Digital dye sublimation technology, a relatively new trend in the textile industry allows designers to alter textile designs, make color selections with the click of a mouse, and hone in on the fine details of their creations. Epson's SureColor® F -Series printers, the F standing for "fashion forward", give fashion and textile designers alike an accessible means to bring their ideas and inspiration to life, with the signature quality that distinguishes the Epson brand. The SureColor F-Series is a line of printers that are high-speed, low-cost printers that produce sharp, vivid images. They offer an abundance of rich colors, intense blacks, and smooth gradations onto fabric.
"The future is now and technology continues to push the fashion industry forward and inspire creativity and innovation," says Agustin Chacon, VP of subsidiary sales and operations, Epson America, Inc. "This technology gives both young entrepreneurs just starting out in the fashion world as well as established fashion brands a way to produce their art in an efficient and affordable manner. It provides a whole new level of creative and functional versatility."
Epson, with digital dye sublimation printing and its new direct-to-garment printing technologies will open doors to endless possibilities; such as printing in real time on a variety of fabrics, to include cotton and many synthetic fibers. Designers now have tremendous liberty, versatility and total creative design freedom, enabling artistic visions to become a reality. The end product is original fabric prints that are unique to each designer, fabrics that are of the highest quality and are of precision-detailed fabrication.
Epson developed the New York Fashion Week Digital Couture event to demonstrate this new revolutionary marriage between fashion and technology. Alongside Epson in this event were a select group of designers from around the world who are pioneers in digital sublimation printing, including Pilar Briceño from Colombia, Dual from Costa Rica, Ay Not Dead from Argentina, Moah Saldaña from Peru, Marco Antonio Farías from Chile, Ma. Elisa Guillén from Ecuador, Pineda Covalin from Mexico, ESOSA from the US East Coast, Mariana Morrell from Brazil, Leonor Silva representing the Caribbean (Venezuela/Miami) and Maggie Barry from California. Epson also tapped noted fashion stylist Sofia Karvela to curate this outstanding event.
About Epson
Epson is a global innovation leader dedicated to exceeding expectations with solutions for markets as diverse as the office, home, commerce, and industry. Epson's lineup ranges from inkjet printers, printing systems and 3LCD projectors to industrial robots, smart glasses and sensing systems and is based on original compact, energy-saving, and high-precision technologies.
Led by the Japan-based Seiko Epson Corporation, the Epson Group comprises more than 72,000 employees in 94 companies around the world, and is proud of its ongoing contributions to the global environment and the communities in which it operates. Epson America, Inc. based in Long Beach, Calif. is Epson's regional headquarters for the U.S., Canada, and Latin America. To learn more about Epson, please visit: http://www.epson.com.
You may also connect with Epson America on Facebook (http://www.facebook.com/Epson), Twitter (http://twitter.com/EpsonAmerica), and YouTube (http://www.youtube.com/EpsonAmerica)
Contact:
Seventh House PR
Mandie Erickson: mandie(at)seventhhousepr(dot)com and Terry Doe: terry(at)seventhhousepr(dot)com