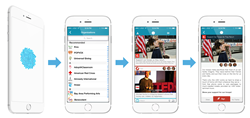 Los Gatos, CA (PRWEB) February 12, 2015
There are many ways to engage with important causes. Different platforms exist for crowd-funding, signing petitions, finding local events, or sharing inspiring content. ActOn stitches all these platforms together into a single mobile app, making it simple to match an individual's interests to organizations that need support. ActOn helps people find what matters, making it radically simpler to discover and support organizations doing good in the world.
ActOn is now live with 200+ channels. Each channel is a stream of dedicated content from leading organizations like Change.org, Kiva, UniversalGiving and DonorsChoose.org as well as newer platforms like Watsi, HandUp and POPVOX.
"With ActOn, you can create impact in the moment — anytime, anywhere." said co-founder, Michael White. "It's simple to amplify your impact by sharing the causes you care about with your friends through ActOn."
The ActOn app is free and available on the Apple App Store. Visit http://www.ActOnApp.com or text 'Act' to 408.329.6313 to download ActOn.
Social Inertia Inc, founded by tech veterans Michael White and Steven Schlotterbeck, is committed to connecting people to the things they are passionate about. The first product developed by Social Inertia is ActOn, a mobile app developed for the growing needs of purposeful individuals. ActOn is a free platform for nonprofit and for-profit social enterprises to leverage the power of mobile, social networking and data analytics to deepen relationships with their supporters.