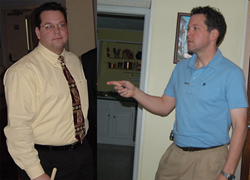 Diet Doc designed easy to follow diet plans for men that turn the body into a fat burning machine and eliminate dangerous belly fat.
Memphis, TN (PRWEB) February 12, 2015
It comes as no surprise carrying excess weight, especially belly fat, increases the risk, for men and women alike, to fall prey to a host of weight-related diseases and conditions. Overweight men, especially those who carry excess belly fat, are at a higher risk for colorectal cancer, cardiovascular disease, sleep apnea and diabetes. Aside from the aesthetic value of losing weight, American men are suddenly realizing that losing excess belly fat can increase their quality of life and longevity.
A man's body weight is largely determined by how the body balances the calories eaten with the energy burned. The less active a man is, the fewer calories the body needs for energy. Overeating and eating high carbohydrate, high calorie, processed foods results in the unused calories nestling themselves dangerously and comfortably within the body's tissues and cells, thus increasing the risk of colorectal cancer, heart attack and diabetes. In addition to activity level and caloric intake, the aging process also plays a significant role in weight gain and a man's ability to lose belly fat. This is because, as the body ages, muscle is lost, decreasing the rate at which the body uses calories and making it more difficult to maintain a healthy weight. And, aside from being embarrassing and cumbersome, the real trouble with belly fat is that it is not limited to the extra layer of padding located just below the skin, but also includes difficult to lose visceral fat, which lies deep inside the abdomen, dangerously surrounding the internal organs.
While the exact cause of colorectal cancer, that ranks third among the most common cancer diagnoses in American men, is not truly known, it is thought that men with above average waist circumference are at a higher risk. And, because the experts at Diet Doc are dedicated to helping everyone avoid weight related disease, including colon cancer, they created medical diet plans for men that are specific to each man's age, nutritional, medical and lifestyle needs. The diet plans for men are interesting, easy to follow, simple and unsophisticated. And, because the company understands that most men do not have the time to attend costly, time consuming and embarrassing doctor or weight loss clinic visits, they partnered with Telemedicine, enabling them to bring safe and effective diet plans for men directly to men in any part of the country without leaving the comfort of home.
Diet Doc recognizes the challenges of eliminating processed carbohydrates from the diet. For this reason, they enhance their diet plans for men with pure prescription diet products that turn the body into a fat burning machine while eliminating hunger, cravings and fatigue during dieting.
Diet Doc continues to strive to create the best weight loss solutions and has earned their reputation by delivering safe and effective diet plans for men throughout the country. Call today to schedule a private consultation.
About the Company:
Diet Doc Weight Loss is the nation's leader in medical, weight loss offering a full line of prescription medication, doctor, nurse and nutritional coaching support. For over a decade, Diet Doc has produced a sophisticated, doctor designed weight loss program that addresses each individual specific health need to promote fast, safe and long term weight loss.
Diet Doc Contact Information:
Providing care across the USA
Headquarters:
San Diego, CA
(888) 934-4451
Info(at)DietDoc(dot)info
http://www.dietdoc.com
Twitter: https://twitter.com/DietDocMedical
Facebook: DietDocMedicalWeightLoss
Linkedin: https://www.linkedin.com/company/diet-doc-weight-loss?trk=biz-brand-tree-co-logo