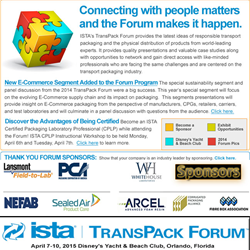 Developments in the area of package testing are a continual process and this conference provides the ideal venue to learn new happenings and meet with current and potential clients
Whitehouse, New Jersey (PRWEB) February 25, 2015
Whitehouse Laboratories is pleased to once again announce that it will be a Diamond Level sponsor for the 2015 ISTA (International Safe Transit Association) TransPack Forum being held April 7th through the 10th at Disney's Yacht & Beach Club in Orlando Florida. A Diamond Level sponsorship represents the highest level available and shows Whitehouse Laboratories commitment to educational programs in the area of package testing. The ISTA TransPack forum is the leading event that brings together expert speakers and industry representatives to discuss and review the latest ideas, trends and advancements in the field of responsible transport packaging and physical distribution of products throughout the globe.
"With our strong focus on continuing to build and improve our package testing business unit, the TransPack Forum is a must attend event for us and allows us to confirm our commitment with a Diamond Level sponsorship" states Whitehouse Labs COO Mark Stier. "Developments in the area of package testing are a continual process and this conference provides the ideal venue to learn new happenings and meet with current and potential clients. Our package testing team leaders look forward to attending."
ISTA's Executive Vice President, A.J. Gruber states, "We thank Whitehouse Laboratories for their continued support of ISTA's TransPack Forum as a Diamond sponsor. It is an invaluable part of the Forum's success. Their sponsorship helps to ensure that ISTA can continue to produce important educational events to facilitate professional development and networking opportunities for industry professionals."
The ISTA TransPack Forum will feature many industry leading speakers and cover key topic areas from test method improvement and development to new technologies in package systems. A special segment has been added this year that centers on the evolving E-Commerce supply chain and its impact on packaging. Immediately prior to the conference, ISTA will be holding its annual CPLP course designed to enable someone to become a Certified Package Laboratory Professional. In addition to the educational programs, this conference offers numerous networking opportunities with the highlights being the welcome reception, beach volleyball tournament and the exhibitor reception all of which attendees may register for to attend.
For additional information on attending the ISTA TransPack Forum, please visit http://www.transportpackagingforum.com.
About Whitehouse Laboratories
The Testing Partner to Manufacturing Companies, Whitehouse Labs is an FDA regulated, DEA Licensed, ISO 17025 and ISTA certified contract service provider to the pharmaceutical, medical device, personal and consumer product industries. Whitehouse Laboratories offers analytical services for the testing of materials, finished products, container and package systems that enable our clients to meet and exceed the required quality standards established by the key regulatory agencies.
About ISTA
The International Safe Transit Association (ISTA) is an organization focused on the specific concerns of transport packaging. ISTA is the leading industry developer of testing protocols and design standards that define how packages should perform to ensure protection of their contents during the ever changing risks of the global distribution environment. As a nonprofit, member-driven association it sets the standards for optimizing the resources in packages that are designed to be survivable, sustainable and successful. Worldwide, ISTA is the most trusted, knowledgeable and respected authority in predictive package-performance testing helping its members develop more effective packaging.