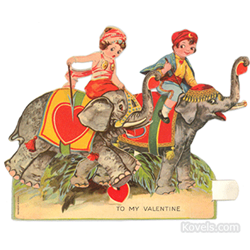 "I actually have some unusual Victorian valentines framed in my powder room."
Cleveland, OH (PRWEB) February 13, 2015
Did you save every valentine you received? Even better—did your grandmother save hers? Kovels.com suggests hunting through the family attic for old valentines. Some are worth hundreds of dollars.
What makes a valentine valuable? The most valuable valentines have clever sentiments and designs—they are pretty or unique. Collectors love Victorian three-dimensional valentines that feature die-cut images that open into three-dimensional views. Later versions from the early 1900s with folded honeycomb paper that pops open into a design are also expensive. Some collectors look for postcard valentines, die-cut school-type valentines from the 1920s, '30s and '40s, and mechanical valentines with moving parts. Also desirable are valentines that reflect the news of the day, historical events or that are signed by someone significant.
Valentines can also function as decorative hangings. Terry Kovel collects valentines and displays them. "I actually have some unusual Victorian valentines framed in my powder room. The best one has lace trim with a small wax cupid figure in the center."
Mechanical valentines, like the one pictured here, are clever and popular. It was made in Germany in the 1930s. The elephants are attached to the valentine with a pull tab and tiny round fasteners. Pull the tab, and the elephants rock back and forth to look like they're walking. It's 5 1/2 inches high and 6 inches wide and would sell for $15 to $25.
So save the valentines you get this year—it's a good start to a new collection. Be sure to check Kovels' Valentine's Day Pinterest board.
Terry Kovel is America's foremost authority on antiques and collectibles. She is the well-known columnist and author of more than 100 books on antiques and collecting. With her daughter, Kim Kovel, she co-authors the best-selling annual "Kovels' Antiques and Collectibles Price Guide." The all-new 2015 edition is available in bookstores and online. They will discuss antiques and collectibles topics with accredited media. Photographs are available. Contact pr(at)kovels.com.
About Kovels.com
Kovels.com, created by Terry Kovel and Kim Kovel, provides collectors and researchers with up-to-date and accurate information on antiques and collectibles. The company was founded in 1953 by Terry Kovel and her late husband, Ralph. Since then, Kovels' Antiques has written some of America's most popular books and articles about antiques, including the best-selling "Kovels' Antiques and Collectibles Price Guide," now in its 47th edition. The website, Kovels.com, online since 1998, offers more than 1 million free prices, and includes a free weekly email, "Kovels Komments." It gives readers a bird's-eye view of the market through the latest news, auction reports, a Marks Dictionary, readers' questions and answers and much more.
Contact Information:
Liz Lillis
216.752.2252
Pr(at)kovels(dot)com