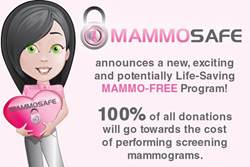 According to the latest statistics from the American Cancer Society, 68% of uninsured women are not getting mammograms.
Houston, Texas (PRWEB) February 12, 2015
With a donation to Mammosafe, donors receive the satisfaction of knowing that their contribution, though it may not be tax-deductible, has the potential to SAVE A LIFE. Also, they may take comfort in the assurance that 100% of the donation will be applied directly to the performance of a free mammogram for an uninsured woman.
According to the latest statistics from the American Cancer Society, 68% of uninsured women are not getting mammograms.
Mammosafe offers a unique opportunity to contribute to an astonishingly more efficient use of donors' hard earned dollars.
Considering all the lives which have been saved, women who have been helped and families which have been made whole by the dedicated efforts of those who work for, and support, non-profit breast cancer organizations, all Mammosafe wants to do is help in that process. By donating to Mammosafe, donors can free up resources for organizations to provide services other than screening mammography, because Mammosafe can perform screening mammograms more cost-effectively. This serves one of the basic tenets by which Mammosafe operates-to work in partnership with those who are engaged in the fight against breast cancer.
It is important to know that all breast imaging studies at Mammosafe are read by a board certified radiologist who specializes in breast imaging. In addition, Mammosafe is fully self-contained and uses proper lead shielding to prevent any unnecessary x-ray exposure to people near the mammography machine. Mammosafe does not bring mammography equipment into buildings and schools and risk unnecessarily exposing those passing by the mammography machine to radiation.
Mammosafe is asking for help to change the way uninsured women receive the breast health care they require. They currently work with numerous non-profit organizations who do amazing work. Mammosafe applauds them for their dedication, their hard work, their caring and their passion. These non-profits save lives, but their efforts are focused on areas other than the actual performance of the mammogram examination. That is where Mammosafe comes in. Mammosafe performs the mammogram on the most luxurious mobile breast imaging center and the only one in the country with a radiologist on board. This means that every woman is given the opportunity to have her mammogram performed by our experienced female mammography technologist, dress and then meet with the doctor to receive her results before she leaves the Mammosafe coach. All of this is accomplished in a timeframe of about twenty minutes. Caring, convenient, safe, private, efficient, top quality, cost-effective screening mammography. That is the Mammosafe way.
The MammoFree program will start small. Mammosafe has an initial goal of $150,000 for 1000 free mammograms by March 31st. Then, with the help of generous donors, they will work to fund another 1000, and then another, and another in their constant fight against breast cancer!
Donations can be made at http://www.gofundme.com/mammofree.
Learn more about Mammosafe at http://www.mammosafe.com.