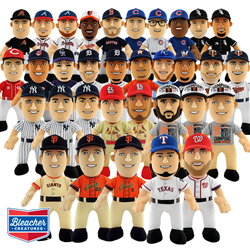 Besides being fun to look at and to play with, Bleacher Creatures plush provide a terrific vehicle for fans to connect with their favorite players
Plymouth Meeting, PA (PRWEB) February 11, 2015
Bleacher Creatures announced today the launch of the 2015 MLB player plush collection—which now encompasses players from every single Major League Baseball club. Bleacher Creatures' collection of incredibly true-to-life 10-inch plush MLB figures includes some of the most popular players in the game today, including Mike Trout, David Ortiz, and Yasiel Puig. Each 10-inch plush retails for $19.99 and will be available February 15, 2015 at MLB Clubhouse stores, at MLB.com/Shop and at bleachercreatures.com.
"We're thrilled to have grown our MLB line of plush figures so dramatically in just three years since our company launched," says Matthew Hoffman, founder of Bleacher Creatures. "Our motto is 'Put your passion in play,' " and now fans of every team in Major League Baseball will be able to do just that, with plush versions of their favorite teams' players."
New additions to the Bleacher Creatures MLB collection include Paul Goldschmidt, Carlos Gomez, Alex Gordon, Brian Dozier, Freddie Freeman, and Masahiro Tanaka.
Players returning to the Bleacher Creature line-up include Clayton Kershaw, Andrew McCutchen, Manny Machado, David Wright, Evan Longoria and Justin Verlander.
"Major League Baseball is delighted that the popular Bleacher Creatures MLB plush figures have proved so popular that they've expanded their roster to cover every one of our Clubs," says Howard Smith, Senior Vice President, Licensing, Major League Baseball. "Devoted fans of every age will have a new way to celebrate their favorite players and their favorite teams—which is one of the most important aspects of the baseball experience."
"The Bleacher Creatures plush figures have proved to be very popular, and we're very happy that fans of every team in the league will now have this opportunity," says Evan Kaplan, Director Licensing & Business Development, Major League Baseball Players Association. "Besides being fun to look at and to play with, Bleacher Creatures plush provide a terrific vehicle for fans to connect with their favorite players—and that's a true win-win situation."
ABOUT BLEACHER CREATURES
Bleacher Creatures is an innovative licensing manufacturer that produces a variety of children's toys through partnerships with professional sports leagues and entertainment companies. Bleacher Creatures are incredibly true-to-life plush figures of the greatest athletes and entertainment icons, allowing young fans (those who are young at heart) to put their passion in play. Bleacher Creatures' goal: to encourage fun, inspiration and, of course, play among fans of any age.
ABOUT MAJOR LEAGUE BASEBALL PROPERTIES
The Major League Baseball Clubs formed Major League Baseball Properties (MLBP) in 1966 as the Clubs' agent for marketing and trademark licensing and protection. Major League Baseball Properties is responsible for managing consumer licensing activities, developing national advertising campaigns, cultivating sponsorship opportunities with major consumer brands and corporations, growing the game and the business of baseball outside the United States and creating national marketing programs in conjunction with Clubs, broadcast rightsholders and national sponsors. MLBP also operates a full-service video and audio production unit (Major League Baseball Productions), a publishing division and stock photo licensing agency, and manages logistics for the All-Star Game and World Series as well as all other special events. For more information on Major League Baseball, log on to http://www.MLB.com.
ABOUT MLBPA
The Major League Baseball Players Association (http://www.MLBPLAYERS.com) is the collective bargaining representative for all professional baseball players of the thirty Major League Baseball teams and serves as the exclusive group licensing agent for commercial and licensing activities involving active Major League baseball players. On behalf of its members, it operates the Players Choice licensing program and the Players Choice Awards, which benefit the needy through the Major League Baseball Players Trust (http://www.PlayersTrust.org), a charitable foundation established and run entirely by Major League baseball players. Follow: @MLB_Players; @MLBPAClubhouse; @MLBPlayersTrust
LIST OF 2015 MLB PLAYER BLEACHER CREATURE PLUSH FIGURES
Arizona Diamondbacks: Paul Goldschmidt
Atlanta Braves: Freddie Freeman, Craig Kimbrel
Baltimore Orioles: Chris Davis, Adam Jones, Manny Machado
Boston Red Sox: David Ortiz, Dustin Pedroia
Chicago Cubs: Starlin Castro, Joe Maddon, Anthony Rizzo
Chicago White Sox: Jose Abreu, Chris Sale
Cincinnati Reds: Jay Bruce, Brandon Phillips, Joey Votto
Cleveland Indians: Michael Brantley
Colorado Rockies: Troy Tulowitzki
Detroit Tigers: Miguel Cabrera, Justin Verlander
Houston Astros: Jose Altuve
Kansas City Royals: Alex Gordon
Los Angeles Angels: Josh Hamilton, Mike Trout
Los Angeles Dodgers: Clayton Kershaw, Yasiel Puig
Miami Marlins: Giancarlo Stanton
Milwaukee Brewers: Carlos Gomez
Minnesota Twins: Brian Dozier, Joe Mauer
New York Mets: Matt Harvey, David Wright
New York Yankees: Jacoby Ellsbury, Brett Gardner, Masahiro Tanaka
Oakland Athletics: TBA During 2015 Season
Philadelphia Phillies: Cole Hamels
Pittsburgh Pirates: Andrew McCutchen
San Diego Padres: Andrew Cashner, Jedd Gyorko
San Francisco Giants: Madison Bumgarner, Hunter Pence, Buster Posey
Seattle Mariners: Robinson Cano, Felix Hernandez
St. Louis Cardinals: Yadier Molina, Adam Wainwright
Tampa Bay Rays: Evan Longoria
Texas Rangers: Yu Darvish
Toronto Blue Jays: Jose Bautista
Washington Nationals: Bryce Harper