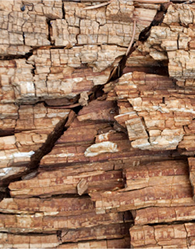 Wood rot damages more wood than fire, an estimated 20 billion board feet annually
Toronto, Ontario (PRWEB) February 24, 2015
Fungi that decay wood are a significant concern on lumber in buildings. When fungi metabolize wood, a reduction in the wood's strength occurs and costly structural damage can result.
The fungi responsible for wood rot are not 'moulds,' in the conventional sense of the word. These basidiomycetes are commonly recognized according to the type of degradation they cause: brown rots and white rots.
True 'dry' rot is only caused by the brown rot fungi Serpula lacrymans. It is capable of traveling several meters through nutrient-free material such as concrete and brick to search for new wood to consume. This can result in widespread damage far from the original source of moisture.
In order to determine the remediation measures required, it is important to ascertain if changes to wood in buildings, such as staining or suspect mould, or fruiting bodies (mushrooms) of fungi, are associated with rot.
To assist in the identification of wood rot, and subsequent risk of structural damage Sporometrics has developed a new Wood Rot Screening test.
Key Benefits of the new Wood Rot Screen:

Identify the most serious wood rot; Serpula lacrymans aka 'dry' rot
Ascertain whether discoloration is a typical mould or wood rot
Go deeper than a bulk sample:
analysis of the interior of wood sample
group basidiomycetes into the categories of rot
Results presented in easy to interpret format (presence / absence of rot)
Provides valuable information for developing appropriate remediation recommendations
A minimum of a 1" x 1" sample of wood can be tested for brown rot, white rot, and dry rot.