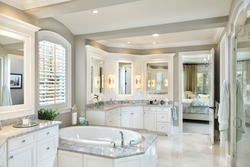 Tampa, FL (PRWEB) February 11, 2015
Luxury home buyers expect more from all rooms in their home and the bathroom is often the most customized. The new article discusses the newest trends and ideas for bathrooms in custom luxury homes.
Many of the newest features come directly from trade shows like KBIS, where the latest products are presented. Others ideas and trends come from the high-end requests from luxury custom buyers themselves. These buyers want design and product elements that will set their bathrooms apart from everyone else's.
Some of these elements often have a higher budget attached to them, but also still have mass appeal. Sinks, tubs and counter surfaces tend to top the list of items that need to be different but useful. The Arthur Rutenberg Home designers have years of experience that translate into creating a spa-like experience in a customer home or a model home that showcases the latest features.
Read the full article on bathroom trends here