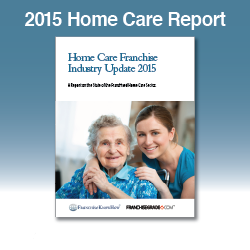 The home care sector reveals continued strong growth.
New York, NY (PRWEB) February 18, 2015
FranchiseGrade.com is excited to participate in FranchiseKnowHow's 2015 Home Care Report. FranchiseGrade.com provides research to substantiate the report including analytics, data and analysis from FranchiseGrade.com's extensive database of 2,400 Franchise Disclosure Documents.
The report indicates that the home care franchise sector remains healthy with solid growth and includes a number of key statistics that point to the success of the home care franchise sector. The report includes a list of the Top 10 Home care franchises that is based upon FranchiseGrade.com's® proprietary Franchise Performance Index™. In addition, the report includes benchmarking to the franchise industry for home care franchisee turnover, growth and SBA lending data.
The report presented by FranchiseKnowHow is the first that represents a collaboration between
FranchiseKnowHow, LLC and FranchiseGrade.com. Ed Teixeira, President of FranchiseKowHow stated: "We are pleased to include FranchiseGrade.com in this project and to present analytics, data and analysis from their extensive database of Home Care Franchise Disclosure Documents." Jeff Lefler, CEO of FranchiseGrade.com commented: "The home care sector reveals continued strong growth in the number of franchised locations and number of new franchise systems."
The National Center for Health Statistics predicts that by 2020 there will be more than 10 million people in the U.S.over 65 with Activities of Daily Living limitations including almost 2 million who will be severely disabled. The market for home care services isn't limited to the elderly, but also includes others that can benefit from the advantages of receiving home care services.
Click here to download the report.
About FranchiseGrade.com
FranchiseGrade.com is the leader in competitive market research and data collection for the franchise industry. The franchise data gathered by FranchiseGrade.com can be used to analyze, evaluate and explain a wide range of business activities within the franchise industry. Our franchise assessment, grading and standardized reporting tools provide industry stakeholders and investors with important data driven metrics to support their investment analysis and decision making. For additional information visit FranchiseGrade.com.
About FranchiseKnowHow, LLC
Ed Teixeira, President of FranchiseKnowHow has spent 16 years in the franchised home healthcare sector as a senior executive for a publicly traded home care franchisor and as the franchisee of a multi-million dollar home health care operation. He was also Chief Operating Officer of a franchised medical staffing company. For more information about FranchiseKnowHow and to contact Ed Teixeira, e-mail franchiseknowhow(at)gmail(dot)com or call (631) 246-5782.