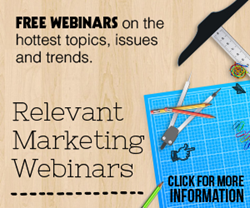 Atlanta, Georgia (PRWEB) February 12, 2015
Hosted by the mRELEVANCE team of experts, all webinars will be held on Tuesdays from 2 to 3 p.m. ET. The dates and topics for each webinar are listed below:
March 24: How to Get Customers to Interact
This "How To" Relevant Marketing webinar will focus on website and social media tools that encourage interaction. Get the target audience engaged and talking back! Managing Partner, Carol Morgan will be joined by NAHB's Senior Director of Digital Services and Online Marketing, Chad Davis.
May 12: How to Work with Reporters
Public relations is about building relationships. Ever wonder the best time to pitch a reporter or whether to call them or just send an email? Find out what top reporters like and don't like when it comes to working with PR and marketing people. Account Manger, Melissa Stocks will be joined by veteran reporter Helen Cauley.
August 11: How to Get Feedback from the Audience
Exit surveys, testimonials and reviews from happy customers contribute greatly to a positive online reputation and brand. Hear tips and ideas for how to put these tools in place so that they are part of a marketing strategy and routine. Managing Partner, Mitch Levinson will lead a lively discussion with a special guest.
October 20: How to Get SEO on Track
Search engine optimization techniques change frequently. If there is still confusion about Panda, Penguin, Hummingbird or Pigeon, its okay. Many people are in the same boat. The mRELEVANCE team will just be getting back from PubCon (a Top US SEO conference) and they will share the latest tips for getting SEO on track.
mRELEVANCE Managing Partner Carol Morgan states, "Our Relevant Marketing Webinars were popular last year, and this year, thry are being offered again as a "How To" series. They are designed to help businesses really dig in deep to create effective programs to market their businesses."
Relevant Marketing Webinars are free and open to business owners and marketing professionals who are looking to gain knowledge on the hottest topics, issues and trends to enhance their marketing efforts. During each webinar, mRELEVANCE's expert marketing professionals will discuss a different marketing topic to improve the effectiveness of a business' marketing program. Click here to register for "How to Get Customers to Interact."
About Marketing RELEVANCE: mRELEVANCE, LLC creates relevant marketing and communications that reach audiences with focused and strategic messages. Through technology and creative content, messages are delivered to target markets to encourage customer action and interaction.
With offices in Atlanta and Chicago, mRELEVANCE can connect a company with buyers and build relevant relationships nationwide. For more information, visit http://www.MarketingRELEVANCE.com, Like the Facebook page at http://www.Facebook.com/mRELEVANCE, Follow the Twitter feed at @mRELEVANCE or call 770-383-3360 or 847-259-7312.