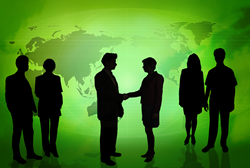 We want to educate businesses on the ways that green technology can improve their bottom line; and, we want to help them achieve Green Office Status to improve both business viability and quality of life."
Endicott, NY (PRWEB) February 17, 2015
Two local companies, Paper Alternative and Geodis announced today that they have agreed to cooperate, as business partners, to promote green office technology both locally and nationwide. Their goal is to help businesses save time and money while conserving natural resources. Focusing first on local businesses, the companies are offering incentives to organizations who sign contracts with both companies under their Green Office – Joint Program (GO-JP).
GO-JP is designed to promote awareness of the simple steps every company can take to reduce their overall carbon footprint, while maintaining the highest standards in technology. By implementing real solutions that solve the everyday business challenges of paper based information and IT used equipment, Paper Alternative and Geodis are positively impacting both business and the environment.
"Our goal with GO-JP is twofold," says Paper Alternative President, Molly McGowan. "First and foremost we want to educate businesses on the ways that green technology can actually improve their bottom line; and, secondly, we want to help them achieve Green Office Status to improve both business viability and quality of life."
GO-JP is in its preliminary stages of development and the alliance invites input from local businesses and government. The plan is to roll out GO-JP on a local basis and gradually build momentum for a national organization that supports better business practices through green technology, so this is a ground-floor opportunity for businesses and individuals who want to make a difference in the future of business and the future of our environment.
"Many individuals feel that there's little they can do to positively impact the state of the environment and most businesses believe that going green is costly. In fact, for both of these mind sets, the exact opposite is actually true," says Bob Valenia, Business Development & Remarketing Manager for Geodis.
The companies say that more information about GO-JP will be forthcoming. Questions regarding green initiatives and technologies should be directed to GO-JP.
About Paper Alternative
Paper Alternative provides Business Process Outsourcing and Document Management. Founded in 2011 by Molly McGowan, she and her associates have over 50 years of combined experience in the process improvement, document management, and BPO industry. Paper Alternative's mission is to provide each and every customer with personalized top-notch service. With our consultative approach to document management, and advanced technologies, Paper Alternative takes into account the unique aspects of every business model and company. Our goal is not to change the way you do business, but to give you the tools to do your business better, faster and greener.
About Geodis
Geodis offers complete mobile, office and datacenter equipment recovery and remarketing solutions including transportation and logistics. We understand the challenges you face in keeping up with today's rapid technological changes. When it comes to retiring IT assets, you need a partner that can ensure your assets are disposed of in a safe, secure & environmentally compliant manner while eliminating data escapes. When possible, you also want to realize the maximum residual cash value of those retired assets. We do that and more as the green growth partner for our clients!