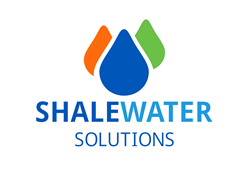 With our logistics management application and treatment processes, Shalewater is able to eliminate inefficiencies and deliver the best performance for each unique operation
Bridgeport, WV (PRWEB) February 13, 2015
Shalewater Solutions, a provider of integrated solutions for water treatment, storage, transfer and hauling for the oil & gas industry, has released its year-in-review for 2014. Shalewater treated almost 7.5 million barrels of water for reuse in hydraulic fracturing in Ohio, West Virginia, and Texas last year.
Shalewater, supported by its real-time water logistics management software suite, ShaleApps™, has proven that treating and reusing water does not have to be a costly venture. "With the current downturn in the oil and gas industry, it is extremely important to manage your costs, while getting the most from your resources." said Chance Richie, President of Shalewater Solutions, "With our logistics management application and treatment processes, Shalewater is able to eliminate inefficiencies and deliver the best performance for each unique operation."
2014 also saw Shalewater expand its list of services available to customers. Service yard space was leased in Lewisville, OH, with Fluid Hauling first on the list of new services. Permits for residual waste hauling are in place for OH, PA, WV, and MI. With accurate to-the-minute invoices and the ability to instantly reroute truck traffic, operators will experience more efficient hauling operations with less idle time, resulting in fewer trucks needed for a given job. Plans are in process for a full service water recycling facility that will treat upwards of 10,000 barrels per day of flowback, produced, and other waters at the Lewisville, Ohio facility to keep up with the growing completion activity in the heart of the Utica shale.
Two new additions to the Shalewater Solutions executive team were made last year, and each brings an expansive skill set to the table. Meghan Kruslemsky, the Executive Director of Sales, has 18 years of sales, marketing, and operations experience in everything from unconventional plays to deepwater drilling and international offshore operations. New Technical Director Ryan Hall was brought on board to deal directly with the changing regulatory landscape around solids handling and water management, and to ensure Shalewater delivers high quality treated flowback and produced water for recycling purposes.
For its efforts last year, Shalewater Solutions and its employees were rewarded as a finalist for New Technology Development of the Year – Software at the 2015 Northeast Oil & Gas Awards to be held in Pittsburgh in March, 2015. Visit http://www.shalewater.com for more information.