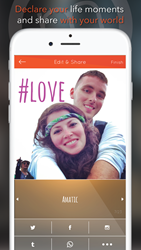 Chicago, IL (PRWEB) February 12, 2015
With social content sharing at an all-time high, the new app from Markr now makes it possible to "visually hashtag" and share photos/videos to multiple social channels simultaneously. It works at the "speed of social," allowing users to instantly enhance images or videos, add context, and connect to trending conversations over multiple social channels from one centralized hub. Markr photos "speak for themselves" and are not dependent on a text bar below a Vine, Tweet or Facebook post for the user's network to quickly identify the meaning behind the image, acting as a bumper sticker for social.
Markr allows users to add a hashtag directly onto a picture or video content before sharing it over their social media channels. It also enables users to edit saturation, contrast, font type, color, as well as add filters. Other apps have similar features, however, Markr is unique in two main ways:

First, the speed at which users can create content and share it across multiple platforms
Secondly, the content is displayed in hashtag conversations appropriately on each platform
For example, if a user wanted to share their #ALSicebucketchallenge video over Vine, Instagram, Facebook and Twitter, they would typically upload it to each channel separately, creating a caption to give context. With Markr, users simply create a video in the app, add the visual hashtag #ALSicebucketchallenge over the content and then share it out via multiple social media channels simultaneously. The app also suggests currently trending topics.
"We looked at what was available in terms of apps that add value to user-generated content and saw an opportunity. We wanted to make a faster, smarter way for people to produce content they want to share and make it easy to do so via multiple outlets," said Markr Co-founder Joseph Collins.
"The goal is to increase visual literacy on social media. Our hope is that users see the value in a centralized hub to edit photos, rather than opening one app to edit a photo/video, and then having to save and upload it individually to each social media platform. We wanted to help pioneer the visual hashtag as a way to instantly add context to a photo or video," said Markr Co-founder Joshua Basinger.
For more information and to try Markr for free now visit: https://markr.is/
Contact: Bruce Kennedy
Phone: 312-670-8951
Email: bruce(at)motionpr.net
###