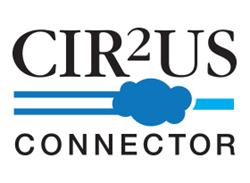 Princeton, NJ (PRWEB) February 13, 2015
R-Squared Services & Solutions, Inc.(R-Squared), a leading supplier of compliance solutions, today announced it has launched CiR2us Connector on Salesforce1 AppExchange, empowering businesses to connect with customers, partners and employees in a whole new way. CiR2us Connector users have real-time access to data managed by CiR2us; this includes both customer and vendor data stored in other systems, such as enterprise, regional or local Travel & Expense (T&E) or Accounts Payable (AP) solutions, as well as massive data sets available from leading public and private sources all via R-Squared's cloud-based master data solution. No longer will customers need to manually enter all data, but can search and import accurate and up-to-date customer and vendor information, saving time and money, while improving the accuracy, consistency and completeness of customer master records.
Built on the Salesforce1 Customer Platform, the new social, mobile and cloud customer platform built to transform sales, service and marketing apps, CiR2us Connector is currently available on the SalesForce App Exchange.
"The CiR2us Connector saves users considerable time and effort by eliminating the need to enter data into Salesforce that already exists elsewhere in the organization or in our cloud-based master," said Matt Adlai-Gail, vice president of products for R-Squared. "It also helps customers avoid duplicate record issues and inaccurate customer records, which enhances both master data management and compliance," he said. "The compliance aspect is particularly important for pharmaceutical and medical device manufacturers that have interaction and disclosure requirements."
"Companies are looking to transform the way they connect with partners, customers and employees to thrive in today's connected world," said Ron Huddleston, senior vice president, ISV & Channel, salesforce.com. "By leveraging the power of the Salesforce1 Customer Platform, R-Squared provides customers with the proven mobile and connected cloud technologies to accelerate business success."
Connect in a Whole New Way with Mobile and Connected Cloud Technologies
This new application connects Saleforce users to the powerful CiR2us cloud-based customer master solution, which contains commercial data sets, government data (National Provider Identifier (NPI), FDA, CMS and other healthcare provider databases) for compliance purposes, and can store existing enterprise customer data. With geo-location and searching across all data fields, customers can easily and quickly import customer and account data into Salesforce.
Key features of the CiR2us Connector include:

Geo-location and search capabilities
Multi-language and character set capabilities
Ability to import existing enterprise, regional and local customer/vendor data
Seamless integration with Concur and other front-end systems
Real-time access to 15+ million public records for domestic and foreign health care providers and organizations
Additional Resources

About the Salesforce1 AppExchange
The Salesforce1 AppExchange is the world's leading business apps marketplace. With more than 2,200 partner apps and more than 2.4 million customer installs, it is the most comprehensive source of social and mobile cloud apps for business. The Salesforce1 Customer Platform is the new social, mobile and cloud customer platform for building next generation apps, powering Salesforce CRM, and more than 3 million custom apps built by customers and partners. Apps built on the Salesforce1 Platform can be easily distributed and marketed through AppExchange.
Salesforce, Salesforce1, AppExchange and others are among the trademarks of salesforce.com, Inc.
About R-Squared
R-Squared Services & Solutions, Inc. is a software company that develops more efficient and effective ways to improve operational performance and compliance with the web of regulations and laws affecting the organization. R-Squared translates regulatory requirements into workable tools and practices that simplifies the task of abiding by laws, regulations and industry best practices – while generating solid evidence of compliance at the same time.