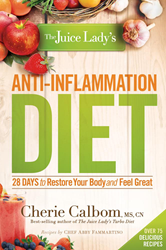 Coeur d'Alene, ID (PRWEB) February 12, 2015
With her new book, "The Juice Lady's Anti-Inflammation Diet: 28 Days to Restore Your Body and Feel Great," nutritionist and juicing pioneer Cherie Calbom, MS, CN, lays out her blueprint to wellness through anti-inflammatory goodness.
"A diet filled with anti-inflammatory goodness is essential for optimal health, but most people don't know how to include healthy staples throughout their day," Calbom says. "My latest book is an easy-to-follow guide to a lifestyle of wellness."
If you are experiencing joint pain, fatigue or difficulty losing weight, you might have chronic inflammation that comes from a poor diet.
Research shows that inflammation is at the root of nearly every disease and ailment. The good news is that just changing the type of foods you eat can bring instant relief. The anti-inflammatory diet is the answer. It's the diet that remedies conditions such as heart disease and diabetes.
Anti-inflammatory goodness provides hopeful readers with the path to recover from just about every ailment—and it works.
Calbom has teamed up with Chef Abby Fammartino, of Abby's Table, for a four-week menu plan with easy, delicious recipes in a new 28-day program to mend and restore the body. Readers will discover which foods to eat, which to avoid, and learn how to prepare them into tasty meals that you and your family will love as you heal your body and rejuvenate your life.
Amazon reviewer Gregory S. Storms says, "The Juice Lady's Anti-Inflammation Diet" is a "valuable resource" and "a guide to healthy living." He gave Calbom's book five stars.
About Cherie Calbom, MS, CN
Cherie Calbom holds a Master of Science degree in whole foods nutrition from Bastyr University. She is author of 26 books including The Juice Lady's Anti-Inflammation Diet, The Juice Lady's Big Book of Juices and Green Smoothies, The Juice Lady's Turbo Diet, Juicing, Fasting, and Detoxing for Life, The Juice Lady's Living Foods Revolution, The Complete Cancer Cleanse, and Juicing for Life with over 2 million books sold in the U.S. and published in 23 countries. She has worked as a celebrity nutritionist with George Foreman and Richard Simmons, and has appeared on numerous radio and TV shows and in scores of magazine articles. She appeared on QVC for more than 13 years with the George Foreman grill. Known as "The Juice Lady" for her work with juicing and health, her juice therapy and cleansing programs have been popular for more than a decade.