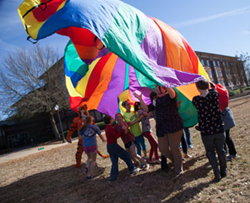 Fond Du Lac, Wisconsin (PRWEB) February 12, 2015
BCI Burke, a leader in the playground, park and recreation industry, will be sponsoring and attending the US Play Coalition conference, which will be held at Clemson University February 15-18. BCI Burke will be actively participating in the event and sharing information on the company's innovative park and recreation products.
The US Play Coalition is a partnership among individuals and organizations that recognize play as an important and necessary part of a healthy and productive life. The coalition has been in existence since the summer of 2009, and has since presented opportunities for people of all ages, backgrounds, and abilities to incorporate play into their lives. BCI Burke is a founding sponsor and proud supporter of the US Play Coalition.
The conference featuring five educational tracks will focus on Education, Programming, Park and Recreation, Health, and Business/Corporate. Also participating in the event will be renowned keynote speakers Dr. Peter Gray, research professor of psychology at Boston College, and Kevin Ross Emery, a national expert in the ADD/HD field.
BCI Burke's Reinventing PlayTM business focus showcases continual improvement and premium customer commitment, as well as creating the highest quality playground, park and recreation products, backed by the best warranty in the industry. Since their inception in early 1920, Burke has been an avid champion of engaging kids and families in healthy, challenging and safe play. For more information, visit http://www.bciburke.com or usplaycoalition.clemson.edu.