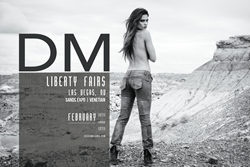 Diego Milano takes many denim risks, but their specialization in mastering the artistry of luxury denim makes those risks notable and successful.
(PRWEB) February 12, 2015
Diego Milano has waited for the perfect time to break into the market, and after the Liberty trade show on February 15th, DM Jeans will be on everyone's mind. Diego Milano will feature their unique and specialized jeans at Liberty, in Las Vegas, as well as ENK Fashion Coterie in New York, February 23rd-25th. The founder and creative director, Chris Kay, will be at the booth ready to share with attendees the intricate and unique elements of Diego Milano and show why they are ready to be in stores and in the hands of creative and fashion forward individuals.
Stop by Diego Milano's Booth, February 16th-18th and grab a glass of champagne and hear how DM is reinventing the luxury denim market with the launch of the "Tribe of Nomads" Collection.
For more information visit the trade show page: DMdiegomilano.com