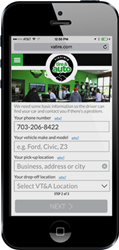 Urgent.ly's APIs will simply allow developers to empower their customers to request, get and track roadside assistance while never leaving the developer's site or app.
WASHINGTON (PRWEB) February 12, 2015
Urgent.ly, the leading, national on-demand roadside assistance service, headquartered at AOL's Fishbowl Labs in Dulles, Va., and the only company seamlessly connecting motorists to roadside assistance through a smartphone app, today announced its next step toward transforming the roadside assistance industry by opening access to its APIs. Now, with access to the APIs, developers can dovetail roadside help into the flow of their product.
With the Urgent.ly service, assistance is just a few taps away. Users simply open the app, select their vehicle and pick the service they need. Urgent.ly then locks in on the stranded motorist's location and dispatches a nearby service provider – similar to Uber. Users can track the service provider's progress in real time on their phone's map, along with a constantly updating estimated time of arrival.
Urgent.ly has no annual membership fee making it the smart alternative to traditional roadside assistance clubs. In fact, traditional auto-club members will save, on average, $165 per roadside incident by switching to Urgent.ly's flat-rate, pay-per-incident model.
"This is a major first step in our plan to engage the development community in creating imaginative and useful features based on the Urgent.ly platform," said Lokesh Kumar, co-founder and vice president of technology at Urgent.ly. "We expect Urgent.ly's APIs to mature and expand, but today we are providing the basic tools for developers to work with us on new and exciting products."
Details of the APIs and how to get started are now available on the Urgent.ly developer website located here: developer.urgent.ly.
"Urgent.ly's APIs will simply allow developers to empower their customers to request, get and track roadside assistance while never leaving the developer's site or app," said Rick Robinson, co-founder and sr. vice president of product at Urgent.ly. "Now a company, such as a national auto repair chain can offer hassle-free on-demand towing services to its customers from within its website or app – with Urgent.ly's APIs they can create that kind of flawless experience."
Ugent.ly's open APIs are just one more way the company is fulfilling its mission of offering access to innovative and efficient roadside assistance, while providing a safe and reliable service that saves families hundreds of dollars.
# # #
About Urgent.ly
Urgent.ly is the new, trusted source for roadside assistance in America. A unique part of the growing on-demand mobile economy and the leader in driving transformation in the roadside assistance industry, Urgent.ly provides a timely, safe and cost-effective roadside assistance experience without a subscription or membership. It offers two-tap, transparent service; clear, flat-rate pricing; and cashless, reliable help for motorists in need of a tow, tire change, fuel delivery, jump start or lock-out service. Urgent.ly is also the only on-demand roadside assistance service in America that offers FamilyView -- a unique feature that provides families and caregivers a peace of mind by allowing them to track the roadside service of a loved one from start to finish. Drivers can download the Urgent.ly iOS app on iTunes at http://bit.ly/1kqkfVe; download the Android app on the Google Play store at http://bit.ly/1xVdRdc or immediately access the service via mobile web at m.urgent.ly.
Contact: Laura Gross, 202-695-8223, lgross@scottcircle.com