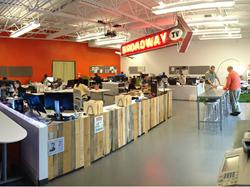 bb7's team has grown by 60% to accommodate for the steady influx of new clients and product development projects.
Madison, WI (PRWEB) February 12, 2015
bb7, an award-winning, full-service product development firm has welcomed significant growth since 2012. The firm (who focuses on the medical, consumer and industrial industries) welcomed double-digit growth in sales, revenue and talent in two years. In fact, 2013 marked bb7's most profitable year in its 70-year history.
"Our success can be attributed to early strategic planning to prepare for the economic recovery," said Jim Frater, President of bb7. "This level of success is particularly rewarding after persevering through the economic downturn; we sacrificed profitability to preserve our most valuable asset: our talent."
From 2012-2014, bb7's team has grown by 60% to accommodate for the steady influx of new clients and product development projects. The talent acquisition strategy was devised not only to meet the demand of comprehensive new product development but also to strengthen the internal capabilities for future demand. bb7's interdisciplinary mix of experts has been augmented by key hires in project management, software engineering, industrial design, mechanical engineering, documentation, electrical engineering and materials sciences. Almost every division has recent hires of veteran specialists with 20 years (average) of experience.
"When you're a service firm, your success hinges on your talent. bb7 has invested in seasoned professionals with extensive backgrounds in everything from thermal analysis to UI/UX to regulatory compliance to oximetry, magnetic levitation, low energy Bluetooth technology, visual brand language, and so many other highly-specialized fields," said Frater. "This talent investment is fundamental to our future growth and the success of our clients' projects."
bb7's accelerated strategic growth has attracted widespread interest. Inc. Magazine included bb7 in their prestigious Inc. 5000 list (2014) which tracks the United States' fastest growing companies. Further, bb7's successes piqued the interest of a private investment group known for partnering with organizations and championing long-term success. bb7 selected the firm not just for access to capital for expansion, but also for a meaningful partnership that will allow bb7 to enter new markets and pursue market leadership.
"As bb7 looks to the future as an evolved organization backed by solid leadership, strong capabilities, strategic alliances and new clients, I cannot help but forecast our position as the market leader with the most comprehensive and reliable approach to new product development." – Jim Frater, President of bb7.
About bb7: bb7 is a global Product Development firm known for being the secret weapon behind profitable products that solve untapped demand, unresolved needs and business goals – across nearly every industry. bb7's solutions innovate beyond product functionality and aesthetics. Cross-functional teams look through multiple lenses and apply customized strategies so that products become the ultimate brand experience. The secret to bb7's high project success rates: More in-house capabilities than the average PD firm. Whether you're looking for a true turn-key product development solution or to augment your internal capabilities, you can rely on bb7's highly specialized experts to provide you with insight & execution that leads to product success.