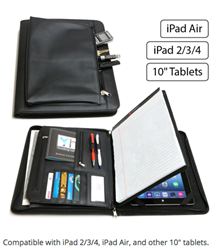 "The Business Leather Portfolio is simple, stylish, and practical" says Jimmy Sun, president of Sunrise Hitek. "It protects the iPad and provides extra storages for business users on the go."
Chicago, IL (PRWEB) February 18, 2015
As more and more businesses integrate iPads and tablet computers into the workforce, business professionals need an easy to carry, protective iPad case that can store all the business essentials and documents. The 2nd generation iPad Business Leather Portfolio https://www.sunrisehitek.com/product/ipad-business-leather-portfolio offers excellent protection for your iPad or 10" tablet, plus lots of storage for business professionals on the go. The case itself is made of high-grade leatherette, offering tough protection for day to day use. An exterior zipped pouch provides easy access for bulky items such as keys and calculators, while the expandable file folder offers plenty of storage for documents, brochures, and catalogs. A micro-fiber divider is sized perfectly for a 8.5"x11" notepad, protects the iPad screen from scratches, and features smart cover auto wake/sleep when used with the iPad 2/3/4, or iPad Air.
Some added features to the 2nd generation model include universal compatibility with aLL tablets up to a 12" screen, not just iPad. The leather on this model is a thicker, premium grade and the other added bonus feature is a built-in easel stand for tablet use.
"The Business Leather Portfolio is simple, stylish, and practical" says Jimmy Sun, president of Sunrise Hitek. "It protects the iPad and provides extra storages for business users on the go."
About Sunrise Hitek
Sunrise Hitek's üuber store, formerly known as iGear, is a leading maker of protective gear for Apple's iPad. The brand changed to üuber when the company starting developing cases for other devices, such as the MacBook, Chromebook, and Samsung devices. Sunrise Hitek Group, LLC, owner of the üuber brand, also operates Sunrise Digital, a leading digital printing company based in Chicago. As a G7 Qualified Master Printer, Sunrise is uniquely qualified among protective gear makers to offer a wide array of customization options, ensuring the most consistent and accurate color reproduction. Sunrise is an Inc. 5000 company established in 1988 and employs the most advanced equipment and technology, such as G7-certified HP Indigo and UV flatbed presses, and digital die-cutting, to create best-in-class products. A privately-owned enterprise, the company is based in Chicago and sells products worldwide.