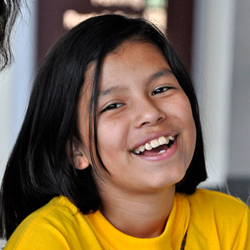 It is not okay for children to grow up without families.
Los Angeles, CA (PRWEB) February 18, 2015
Kidsave is seeking families who are willing to open their homes to a child without parents this summer – with the idea of helping that child find an adoptive family. The children are ages 10-14 and are growing up in orphanages and foster families in Colombia and are all available for adoption.
Terry Baugh, Kidsave President, explains that families don't have to commit to adopt -- the opportunity to travel to visit a host family is what these children need. "Hosting is a way to dramatically change a child's life," Baugh explains. "When people meet these kids, the kids find families. Right now we need host families to give these children a chance. Adoption is not required – just a family willing to open their home from the first of July through the first week in August."
"I grew up in a house where there was always be room for one more," Baugh said. "That's just the case with hosting. Families who host kids will have an amazing summer experience. The kids fit nicely into a summer routine, they are lots of fun. Plus it is a chance to meet some wonderful people who care about children. We are a small group of very committed people in support of these children. Kidsave communities are volunteer-run. Our goal is to bring at least 40 children from Colombia to the United States this summer."
Hosting is all about advocating for the children. Hosts work with their networks and Kidsave to help find a family for their particular child. The summer visits are filled with planned weekend events where the kids get a chance to meet people interested in adoption. Kidsave volunteers support host family networking and once someone gets to know one of these children everything changes. Kidsave has experienced considerable success with this program. Over the past 16 years 8 of 10 children who travel are matched with an adoptive family.
While hosts are not required to adopt many do. Couples, families with kids and singles are eligible to host. This will be an experience of a lifetime for anyone who is looking to make a lasting difference in the life of a child. Kidsave is recruiting families in specific communities and families serious about adoption can host wherever they live if they agree to work with local Kidsave social work partners.
"It is not okay for children to grow up without families," Baugh continued. "The children who need host families have already faced much adversity – neglect, trauma, and loss of parents. They are alone, left to grow up without a parent's guidance. And without a parents guidance the outcomes are not good as kids aren't able to finish school or find a good job and often turn to crime to survive. They are prime candidates for trafficking. A summer host family can change this trajectory just by giving a child a chance to travel this summer."
If you can't host but want to help – volunteers are needed. You can learn more about Kidsave's Summer Miracles program on the Kidsave website. Orientations are offered at no charge online. Sign up on Kidsave's event calendar.