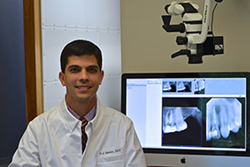 Jacksonville, FL (PRWEB) February 12, 2015
Leading endodontist Dr. Allan Sandor encourages Jacksonville, FL residents to improve their oral health and their smiles, by offering savings this month through three special offers. The coupons include a free second opinion consultation, 50 percent off an oral sedation, or a new patient discount of $100 off any treatment including root canals.
Dr. Sandor specializes in root canal procedures and provides the latest technology to make his patients feel comfortable with the process of restoring oral health. Root canals may be needed when decay, or a crack or injury to the tooth causes inflammation or pain. Anyone experiencing these symptoms is encouraged to contact Dr. Sandor to discuss treatment options.
With the coupon for a free second opinion consultation, patients who have received an exam and treatment plan from another provider can learn about alternative options. Using state-of-the-art tools, Dr. Sandor evaluates the patient's needs and provides the least invasive treatment currently available. To make his patients more comfortable, Dr. Sandor offers the latest in sedation techniques. A new patient may opt to use the coupon that provides 50 percent off oral sedation.
Whether patients are experiencing a sharp, shooting pain or a dull ache, constant tooth discomfort can destroy an individual's quality of life. A lack of dental insurance can make relief seem impossible to achieve, but Dr. Sandor believes that oral health should be available for everyone. He offers a coupon for $100 off any treatment to lower the cost for new patients in Jacksonville, FL who require the services of an endodontist but lack dental health coverage.
Although these offers cannot be combined, Dr. Sandor has designed his discounts to introduce residents of Jacksonville, FL to affordable, advanced treatment from an endodontist who specializes in patient care. Individuals who want to choose a coupon and schedule an appointment for a consultation or root canal procedure can find more information on the Sandor Endodontics website.
About the Practice
Sandor Endodontics is an endodontic practice offering patients modern treatment in performing root canals to save teeth in Jacksonville, FL. Dr. Allan Sandor completed his undergraduate studies at the University of Florida and received his dental degree from Marquette University, College of Dentistry in Milwaukee, WI. He was a dental officer in the United States Navy and completed a one year Advanced Education in General Dentistry at the Marine Corps Recruit Depot on Paris Island, SC. He was selected within the Navy for training in Endodontics and received his certificate from the University of Iowa, College of Dentistry. To learn more about Dr. Sandor, a published endodontist, visit his website at http://www.endodontistjacksonville.com and call (904) 302-9812.