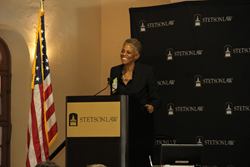 Diversity is being invited to the party; inclusion is being asked to dance.
GULFPORT, Fla. (PRWEB) February 11, 2015
On Feb. 6, Stetson University College of Law in Gulfport, Florida, hosted a daylong "Inclusion Summit: Developing Cultural Competence." The program was designed to help foster an energized workplace, retain top talent and develop best practices for making inclusion a reality.
Vernā Myers, a nationally recognized expert on cultural competence, diversity and inclusion, provided the keynote and moderated sessions throughout the day.
"We still have a long way to go in order to learn how to create inclusion for others," said Myers.
"Diversity is being invited to the party; inclusion is being asked to dance," Myers is known for saying and wrote in her book, What if I Say the Wrong Thing? 25 Habits for Culturally Effective People.
Inclusion Summit sessions included "A Conversation about the Value of Inclusion" and "Cultural Competency: Essential for Corporate Leaders."
The one-day summit featured Myers and opening speaker President and Publisher of Florida Trend Andrew Corty, PNC Bank's Executive Vice President and Chief Diversity Officer Marsha Jones and PNC Bank Relationship Banker Ashley Brundage, FordHarrison Regional Managing Partner Tracey Jaensch J.D. '91 as well as other national and regional thought leaders.
Corty discussed how demographics have shifted to produce the Changing State of Florida.
Stetson Law Dean and Professor of Law Christopher Pietruszkiewicz introduced the program, spearheaded by Director for Career Development Cathy Martin.
PNC Bank was the presenting sponsor.
###
About Stetson University College of Law
Stetson University College of Law, Florida's first law school, has prepared lawyers and leaders since 1900. Today, Stetson leads the nation in blending legal doctrine with practical training, evidenced by its top-ranked programs in advocacy and legal writing. Through our academically rigorous curriculum and commitment to social responsibility, Stetson lawyers are ethical advocates ready to succeed in the legal profession.