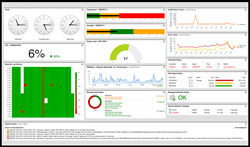 One of our goals was to offer an exceptionally flexible, visually appealing, and communicative dashboard, and I'm happy to say that EventSentry now sports one of the best dashboards on the market.
Chicago, IL (PRWEB) February 12, 2015
NETIKUS.NET announced the release of EventSentry 3.1, a significant update of the company's popular and critically acclaimed network monitoring solution. Among EventSentry 3.1's new and improved features are a completely overhauled web-based network dashboard, scheduled tasks monitoring and large file detection, virtualization inventory support as well as upgrades to the solution's network monitoring features.
Chief among the improvements is EventSentry's web-based network dashboard for teams, which offers many new tile types, TV-Mode, themes and more. Creating multiple dashboards allows users to visualize the current view of any metric, such as a particular service or datacenter. Customized dashboards can also be shared among EventSentry users and support 24 different tile types, ranging from status tiles and history tiles to graphical widgets which visualize network data. The new TV Mode can automatically iterate between multiple dashboards – perfect for NOCs and similar control centers.
EventSentry now monitors scheduled tasks, detects the largest files on a drive, and inventories virtual machines (VMs) on a network. The improved Task Scheduler feature enumerates all scheduled tasks, including nested tasks, on a host. Large-file enumeration also automatically enumerates the 250 largest files—a useful way to quickly determine why disk space is full. The new VM inventory can create a network-wide inventory of all VMWare® ESXi™ and/or Hyper-V® virtual servers and machines.
"One of the goals for this release was to offer an exceptionally flexible, visually appealing, and communicative dashboard," says Ingmar Koecher, president of NETIKUS.NET, "and I'm happy to say that we've achieved this goal. EventSentry now sports one of the best dashboards available."
Among the unique dashboard improvements is a new heat map tile for uniquely visualizing log, syslog, and performance data—a feature that sets EventSentry apart from other monitoring products. A new generic search tile supports embedding data from any feature in the dashboard, and you'll find a variety of tweaks and improvements to existing dashboard tiles. The dashboard also offers support for TV mode, as well as dark/light themes.
Along with overall stability improvements, EventSentry 3.1 also offers enhanced router functionality, letting you configure routers based on IP subnet. Status change detection and uptime calculation have been engineered to be more reliable. Managing non-Windows hosts in the management console has also been streamlined for better usability in the latest update.
About EventSentry
EventSentry™ is a comprehensive real-time event log, system, and network monitoring solution. EventSentry helps customers meet their compliance requirements as well as prevent business outages with its powerful server health, network, and environment monitoring components. The extensive software and hardware inventory capabilities in EventSentry provide additional value to its users. EventSentry is backed by excellent support, and can be highly customized to integrate with virtually any environment.
About NETIKUS.NET ltd
Founded in 2002, NETIKUS.NET is a privately owned software company located in Chicago, IL developing both free and commercial software products for IT professionals. NETIKUS.NET ltd can be reached at 1-877-NETIKUS or on the web at http://www.netikus.net.