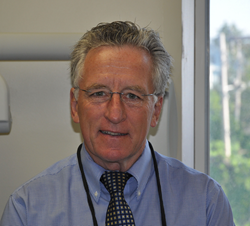 Weymouth, MA (PRWEB) February 11, 2015
People from Weymouth, MA, who have missing teeth and are committing to improving their oral health during the New Year are now invited to visit Dr. Thomas Mone in Braintree for All-on-4® implant-supported dentures. These dentures are held in place with dental implants and offer a more secure, permanent fit than regular dentures. The use of implants also helps prevent the loss of jawbone density that usually follows tooth loss.
The All-on-4® technique uses just four dental implants to anchor a full denture in place. Dr. Mone places the implants in the alveolar bone and the implants fuse into the bone over time. Dr. Mone can customize the All-on-4® prosthetic so that the implants are placed wherever the patient's jawbone density is greatest, which reduces the likelihood that patients will require bone grafting to prepare for the implant procedure. All-on-4® is a more affordable solution than traditional implants, and it offers the same permanency. Additionally, because the use of implants prevents bone density loss, the denture typically does not need adjusting or refitting.
Dr. Mone encourages people in Weymouth, MA, to consider replacing missing teeth with All-on-4® implant-secured dentures because of the associated health benefits. Dental implants provide the stimulation that signals the jawbone to maintain itself, preventing bone density deterioration. In addition to causing changes in facial shape, severe bone density loss can make it difficult for patients to use prosthetics, creating a risk of malnutrition and other problems. With All-on-4®, Dr. Mone's patients are protected from bone density loss, and they can still eat a balanced, varied diet. Patients also find All-on-4® dentures easier to use and care for, since the dentures attach directly to the implant posts and do not require any adhesives.
Many patients are good candidates for All-on-4®, especially since the dental implants can be placed to make the best use of existing bone density. Dr. Mone requires an initial consultation to determine whether he recommends All-on-4® for patients with missing teeth in Weymouth, MA. People who are interested in learning more about All-on-4® and other tooth replacement options are encouraged to call Dr. Mone's office or visit his website to request a consultation.
About the Practice
Mone Periodontics is a periodontal practice offering personalized dental care for patients in Braintree, MA. The leading periodontist at the practice, Dr. Thomas Mone, graduated from the University of Massachusetts with a bachelor's degree, and then went on to attend the University Of Pennsylvania School Of Dental Medicine and graduated at the top of his class. He completed his periodontal training at Boston University Goldman School of Graduate Dentistry. Dr. Mone is part of one percent of dental professionals providing the LANAP® FDA cleared laser procedure for gum disease and periodontal treatment. To learn more about Mone Periodontics and their dental services visit their website at http://www.braintreeperio.com and call (781) 348-9925.