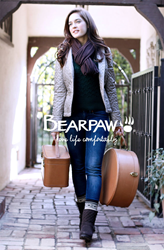 "We're going to build on the success of the past, but we have to push the envelope so that we never stop evolving." - John Pierce, President of BEARPAW
Citrus Heights, CA (PRWEB) February 17, 2015
Once John Pierce accepted the role of President of BEARPAW in 2014, his main goal was to take the company in a new direction. For a company that counts women as 80% of its market share, Pierce immediately saw an urgent need: speak to the women and girls who already love the brand, but to also make more consumers aware of who BEARPAW is, our style, our philosophy and our lifestyle. In that vein, he added Linda Poetesh, Designer, as well Boo Friedmann, Director of Media and Marketing to the team. Since then, the growth of the company has nearly doubled with a focus on female driven, on-trend designs and marketing that speaks more concisely to fashion forward Millennials and women. Now for 2015, the team at BEARPAW plan to add another designer to with a key sense of women's style.
"The fact is, I can't tell you from personal experience how one of our Bonnie Boot wedges feels on my feet," explains Pierce, "How it feels to walk in them or go dancing. That's why it's imperative to have strong women's voices in our company. From our amazing associates who work in-office, to our design team, and to our marketing strategists."
Poetesh added, "Now we incorporate into designs not just construction and brand-right materials and details, it's also about what makes a woman's legs look longer and thinner? We incorporate long lines and silhouettes. We're telling the BEARPAW brand story, and it's a story about women who want to look fashion forward and style set, while also not killing their feet in the name of fashion. We can offer them that." Jeffery Weinstein, the Director of Product Development said, "It doesn't work without a women's point of view. I rely on the women of the company to make sure we're steering in the right direction."
The updated designs are accentuated by the marketing plan as well. "We now have a women's voice," said Friedmann, "We create videos, photos, and tell the stories on social media that women and girls want to hear. Choosing to look amazing and refusing to be in pain in the name of fashion is a very empowering position. All of our language, videos, and pictures reflect that."
This year, BEARPAW plans to add another designer to the team. "We need to find someone who understands this women's voice, their needs, and what they want out of their shoes," said Pierce. "We're going to build on the success of the past, but we're also going to keep pushing the envelope and update our collections so that we never stop evolving. Styles, attitudes and trends change all the time. BEARPAW is fully prepared to keep up.
About BEARPAW: BEARPAW is a footwear company, started in 2001, based in Citrus Heights, CA. Founded by Tom Romeo, the focus has always been on comfortable, easy to wear lifestyle boots.