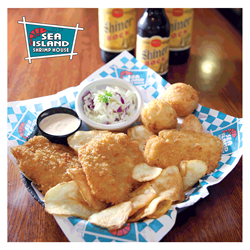 "Many of our customers come in regularly for fresh and affordable seafood throughout the Lenten season," said Barclay Anthony, Sea Island CEO.
TX (PRWEB) February 13, 2015
Sea Island Shrimp House is offering a new fish special for Lent, "Texas Fish and Chips," a hearty helping of crispy hand-breaded Alaskan whitefish, marinated in Shiner Bock beer for an extra savory kick, served with creamy coleslaw, hushpuppies, and choice of French fries or crunchy handmade potato chips for $8.49 all day throughout the Lenten season.
Lent begins on Ash Wednesday, February 18, and runs 40 days through April 4; Easter is April 5.
Sea Island Shrimp House, a family-owned and operated seafood company, marks its 50th anniversary this year of serving the freshest seafood at affordable prices in San Antonio.
Now with six locations, Sea Island Shrimp House employs more than 400 individuals, many of whom have been with the company for more than 20 and 30 years.
Sea Island Shrimp House is grateful to its loyal customers and is celebrating its 50th anniversary in San Antonio all year long with special offers, Facebook contests and promotions! More at http://www.facebook.com/SeaIslandSA.
For more information about our family, history, seafood and locations, please visit http://www.shrimphouse.com.