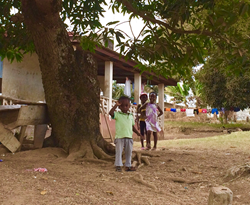 The President said 'America is as committed as ever' to end this epidemic, and so are we at PCI.
San Diego CA (PRWEB) February 11, 2015
PCI (Project Concern International) was invited by President Obama to the White House today in recognition of our work in fighting the Ebola epidemic in West Africa. The meeting earlier this afternoon included government, humanitarian, and private sector partners involved in the U.S. response to Ebola.
"PCI has been on the ground in Liberia from day one of the Ebola epidemic working at the community-level to ensure the Liberian people had the information and tools they need to protect themselves and their families," said PCI President & CEO George Guimaraes. "The President said 'America is as committed as ever' to end this epidemic, and so are we at PCI."
In partnership with USAID, PCI has educated over 140,000 Liberians on how to prevent and treat Ebola. As the country's economy has been devastated over the past nine months, the ability of families to purchase food has become increasingly difficult. PCI is now working in four counties to help Liberians recover from the crisis, gain access to healthy, nutritious food, and rebuild their health system.
In December, PCI began managing an Ebola Treatment Unit for the Ministry of Health to care for Liberians with the virus, and the organization is also managing three rural community care centers providing triage care for suspected cases of Ebola and other immediate health needs.
PCI has been working in Liberia for five years with school and community nutrition and health programs. When the outbreak began, PCI put Ebola prevention messages in our programs to educate people at the community level about the disease. PCI distributed hygiene and sanitation supplies including hand washing buckets and chlorine bleach to more than 400 communities.
About PCI: PCI's mission is to prevent disease, improve community health and promote sustainable development worldwide. Motivated by a concern for the world's most vulnerable children, families and communities, PCI envisions a world where abundant resources are shared, communities are able to provide for the health and well-being of their members, and children and families can achieve lives of hope, good health and self-sufficiency. For more information, visit http://www.pciglobal.org.