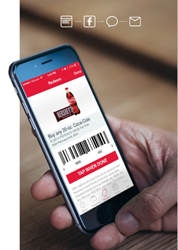 Based on the findings in this report, we believe that mobile offers in c-stores are one of the largest opportunities for brand marketers today.
Frisco, TX (PRWEB) February 12, 2015
Today Koupon Media, the industry leader in delivering geo-targeted mobile offers, proved how mobile offers have changed the game with the release of its Mobile Offers & Convenience Stores market report.
Over the past three years, Koupon Media has been powering mobile offers for over 10 of the top 25 largest convenience stores in the US. Last year in-store sales for convenience stores surpassed $200 billion, making it one of the fastest growing retail segments in the US.
The report examines the opportunity of mobile offers in convenience stores for brands and retailers alike and consists of two parts. First, it presents mobile coupon performance based on over 600 campaigns across six major convenience stores, including insights about offer types, offer duration, open and conversion rates. Next the report follows the statistics with a Kum & Go case study including rave reviews from Kum & Go's head of digital marketing Mike Templeton, who describes Koupon as "crucial to the success of Kum & Go's mobile marketing campaigns" and a partner that has "increased store traffic and boosted revenue."
Some of the groundbreaking insights include:

The average mobile offer redemption rate on the Koupon's Platform is 10% (vs. paper redemption rate of .47%)
On average, Koupon-powered offers increased product unit sales by 12%
"We have proven, with hard data, that mobile offers help c-stores bring customers into the store and drive sales." Says Koupon Media's CEO, TJ Person. "Based on the findings in this report, we believe that mobile offers in c-stores are one of the largest opportunities for brand marketers today."
About Koupon Media:
Koupon Media is the industry leader in both cloud based mobile offer management and distribution across the largest mobile coupon network. Its geo-targeted offers enable brands to instantaneously deliver coupon offers to consumers when they are in stores