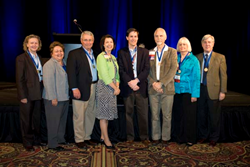 Becoming a Fellow was the highlight of my career in radiology
Fairfax, VA (PRWEB) February 27, 2015
The Radiology Business Management Association (RBMA) is currently accepting applications for its next class of Fellows — one of the most highly regarded awards in the field of radiology business management.
Since 2009, the RBMA Fellowship program has served to recognize the significant contributions made by RBMA members to the Association and the profession. Fellow of the RBMA (FRBMA) is a prestigious recognition because each Fellow candidate must meet a very high standard for educational accomplishment, years of RBMA membership, professional service to RBMA and contributions to the profession. Minimum requirements to be considered include:

Ten years of professional experience in radiology or a related fields
Five or more consecutive years of RBMA membership
Documented accumulation of at least 50 RBMA continuing education credits over the course of his/her membership in RBMA
Demonstrated service to RBMA and the radiology business management profession
"Becoming a Fellow was the highlight of my career in radiology," said Clark Davis, FRBMA, MBA, CEO of Mountain Medical, a 15-location group of sub-specialized radiologists and vascular surgeons serving Utah and Southern Idaho, and a member of the class of 2014. "Giving back to radiology is something I've always tried to do and something I will continue to do. It is nice to be recognized for one's work."
The application deadline is March 6, 2015. The RBMA Fellowship Selection Committee carefully evaluates all qualified candidates' applications in March, and candidates will receive written notification on the outcome of their applications in April. The 2015 class of fellow will be publicly announced at the RBMA 2015 Radiology Summit, held this year from June 7 to 10, 2015, in Las Vegas, Nevada.
For more information on the RBMA Fellowship Program visit http://www.rbma.org/Fellowship.
The Radiology Business Management Association is a national not-for-profit association providing members with applied business information and intelligence applicable in any radiology setting. The RBMA has approximately 2,300 members involved in various management capacities in private practices, academic radiology groups, imaging centers and hospitals. The RBMA continues to be recognized as the leader for radiology-specific educational programs, products and services, publications and data.