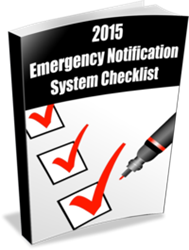 Download the checklist today and ensure your ENS is capable of doing its job when you need it the most.
San Francisco, California (PRWEB) February 12, 2015
Regroup, the leading Emergency and Mass Notification provider, has published a comprehensive guide for evaluating the capabilities of Emergency Notification Systems (ENS). Their "2015 Emergency Notification System Checklist" offers readers the opportunity to gauge the effectiveness of their existing system and uncover any deficiencies before a disaster strikes.
You can download the checklist here: http://bit.ly/1IT4XDD
A key best practice in emergency communications preparedness is ensuring an ENS is capable of doing its job during an emergency when lives are on the line. With the rapid pace in which technological advancements are being made in emergency communications, even systems implemented a few years ago may be outdated, increasing the risk for ENS failure.
Emergency management personnel, ENS admins and any others who are responsible for issuing emergency communications are encouraged to download the checklist and take a few moments to compare existing system capabilities against the capabilities listed in the checklist. After the comparison, readers will either be confident that their existing system will perform as needed during an emergency or they will have discovered any shortcomings in time to evaluate other options.
For a live demo of Regroup's Emergency & Mass Notification System, sign up here: http://bit.ly/1AXBx2Q
About Regroup:
Regroup, the leading Emergency Notification System, offers easy one-click messaging to mobile phones (text/voice), landlines, email, social media, websites and more. Regroup stands apart from other mass communication systems with its ease of use, automated messaging capabilities, seamless integration with social media and client databases, unparalleled 24/7 customer support and unlimited text/voice/email messaging.
To learn more about how Regroup's Emergency and Mass Notification System can provide rapid communications during a crisis, as well as streamline day-to-day communications, call 917-746-6776 or email inquiries[at]regroup[dot]com.