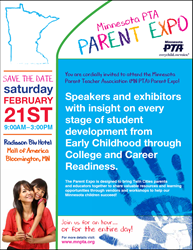 Come spend an hour or the day!
Bloomington, Minnesota (PRWEB) February 18, 2015
On Saturday, Feb. 21, Minnesota PTA will host its first Parent Expo at the Radisson Blu Hotel-Mall of America. The Parent Expo will feature an impressive lineup of workshops, fundraising exhibitors, fieldtrip exhibitors and interactive booths, spirit wear jewelry vendors, educational talks, school supplies, food tastings and entertainment. The event will arm parents with current information and tools to effectively support their student's development in the most important years.
The Parent Expo is being held in conjunction with PTA Take Your Family to School Week. The weeklong initiative is designed to spotlight the importance of family engagement in education as well as partnerships among parents, teachers and administrators to student success and school improvement. The timing of the week honors the day PTA was founded: Feb. 17, 1897.
"Ongoing research shows that when families are engaged and families and schools work together, students attend school more often, earn higher grades, have better social skills and show improved behavior," said Tracie Dewberry, president of Minnesota PTA. "PTA Take Your Family to School Week and the Parent Expo are designed to educate and empower families with effective, meaningful ways to get involved in their children's education."
A wide variety of workshops will be conducted during the Parent Expo. Highlights include:

Early childhood music workshop titled," Involving children through fun with music & movement " led by special presenter -Teddy Bear Band, Richard Erickson
Legislative workshop titled, "Parents DO Impact State-level Education Policy" led by special presenter Legislative Director, Mary Ciccone ,Parents United
Non-profit Insurance for PTA, PTO and booster club workshop titled, "What's Your Back-up Plan?" led by special presenter – CEO, Elgin Allen, AIM Insurance
Mental Health Challenges in Teens Workshop titled, "Everything you always wanted to know about adolescent mental health but were afraid to ask" led by Director of Client Services, Hal Pickett, Headway Emotional Health Services
Removing pop and junk food from School Carnivals and more workshop titled "Smart Fundraising for Healthy Schools" co- led by Ann Kisch, RDN, LD, Action for Healthy Kids, and Teresa Ambroz, MPH, RD, LD, Minneapolis Heart Institute Foundation
For more information about the Parent Expo and to view a complete list of workshops, visit: Minnesota PTA Expo Workshops
About National and Minnesota PTA
PTA is the conscience of the country for children issues. PTA Take Your Family to School Week and the Minnesota PTA Parent Expo reinforce the association's legacy and mission to promote children's educational success and health and well-being through strong family engagement.