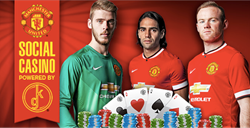 Dublin (PRWEB) February 17, 2015
Manchester United and Official Global Social Casino Games Partner, KamaGames have today unveiled the first in a series of specially designed social casino games for Manchester United fans worldwide.
At an event held at the Club's famous Old Trafford stadium, Manchester United's Group Managing Director, Richard Arnold, KamaGames CEO, Danny Hammett and first team players, Wayne Rooney, Jonny Evans, Rafael, Tyler Blackett and Anders Lindegaard were on hand to celebrate the launch of Manchester United Social Poker, Powered By KamaGames.
Available to play online, on Facebook or downloaded to your mobile devices, Manchester United Social Poker, Powered By KamaGames give the club's fans the opportunity to interact and play social poker with fellow supporters around the world. As a social casino game, no money is won, however players can participate in tournaments with the opportunity to win Manchester United prizes, tickets, memorabilia, trips, special events.
Manchester United Group Managing Director, Richard Arnold comments:
"Manchester United Social Poker, Powered By KamaGames is a new and exciting way for our fans to not only interact with the Club but also with each other. KamaGames is one of the industry's leading developers in this area and we are pleased to be teaming up with them to offer these products. This is just the first social casino game to be launched as part of the partnership and we are looking forward to introducing fans to many more."
Danny Hammett, CEO of KamaGames comments:
"KamaGames and Manchester United have many things in common, sharing the same dedication to excellence and providing our players with best game experiences possible. We will continue to innovate and entertain the Manchester United Global fan base through our Social Poker Game as well with our soon coming Social Casino."
Manchester United Social Poker is a social casino game and no money is exchanged or won.
About Manchester United
Manchester United is one of the most popular and successful sports teams in the world, playing one of the most popular spectator sports on Earth. Through our 137-year heritage we have won 62 trophies, enabling us to develop the world's leading sports brand and a global community of 659 million followers. Our large, passionate community provides Manchester United with a worldwide platform to generate significant revenue from multiple sources, including sponsorship, merchandising, product licensing, new media & mobile, broadcasting and match day.
About KamaGames
KamaGames® is a Global Developer and Publisher of Social Games for Mobile Platforms, Online, Facebook, Steam, Xbox Live & Playstation Network. The company possesses wide experience in successful game production. The flagship game of the company - Pokerist® Texas Poker - has been featured in top positions in Grossing Charts on the AppStore and Google Play for the past three years and currently KamaGames has achieved over 70+ Mil downloads.