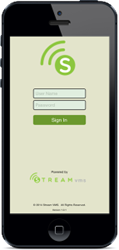 An easy and affordable cloud-based VMS system to run your vending machine route business! Try for Free!
(PRWEB) February 26, 2015
Stream VMS, a vending machine management software system tracking program, was founded and developed with the mission of revolutionizing and streamlining the way vending machine operators track their profits, drivers and inventory. Stream VMS started as a concept back in June of 2013; deciding early on that the vending management software system or program needed to be cloud-based and utilizing an iPhone app. The Stream VMS, vending machine software tracking program, was designed with the advice of several vending operators and ultimately built a system saving vending companies time with automatic cash control, smart scheduling, commissions, driver mapping, and more.
Introducing the Stream VMS Mobile app version 1.1
The Stream VMS mobile app is fast and easy to use and works flawlessly to provide your vending business critical data to make important decisions. Stream VMS Mobile & Mobile Manager works best on an iPhone to feed the system real time data, however, can be used with an iPod touch as well. Stream Mobile Manager looks and feels the same, however, all drivers locations are included for vending route management purposes. Stream Mobile App works flawlessly with the Stream VMS Office Dashboard. All Stream VMS mobile app updates are pushed to devices via the App Store.
Introducing Stream VMS Office… an advanced dashboard system built to run your vending machine business efficiently and effectively. Stream VMS Office is cloud based so you can view your sales, track drivers, change schedules, etc. from anywhere with an Internet connection. Furthermore, Stream VMS dashboard provides vending machine companies a central place to manage all sales data, scheduling, asset management, commissions, reporting, and more! Commissioned customers can login and view all past and present commission reports via the Customer Portal! The Stream VMS Office Dashboard is customizable and looks great on a Mac or PC. Managing your vending machine company data and viewing important metrics such as... daily, weekly, monthly and yearly sales, daily driver records, smart schedules, cash control & more on an easy to use dashboard.
New features in version 1.1
Smart Scheduling - Never miss another service stop again! Customize schedules in a snap, with the Stream VMS advanced scheduling features!
Route Tracking - Easily track your drivers and how much they have collected in real time. No more handwritten route tickets.
Easy Commissions - Automatically generates customer commission reports. Your customers now have login access and can view all current and past sales and commission reports.