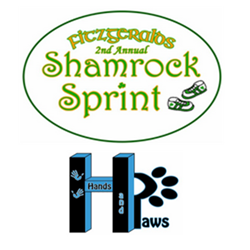 "I donate my time to this cause as it is one of the few organizations truly 100% percent volunteer driven and 100% of the proceeds are devoted to healing and finding forever homes for animals!" - Tammy Carr, CLO, eLogic Learning
Tampa, Florida (PRWEB) February 13, 2015
Leading learning management system and eLearning provider eLogic Learning (eLogic) has announced it will sponsor the Shamrock Sprint on March 15, 2015 in New Port Richey, Florida. All proceeds from the event will go to Hands and Paws for Pasco, a non-profit organization that provides emergency medical treatment for animals in Florida county "kill" shelters and once healthy, the animals are placed for adoption.
eLogic donates a portion of the proceeds of every sale to causes chosen by employees. A name drawing takes place when a contract for eLogic's award-winning learning management system or custom eLearning content is established. The drawing ensures that every employee has the opportunity to participate and contribute to a non-profit or charity they are passionate about through eLogic.
eLogic Chief Learning Officer Tammy Carr was the winner of a recent company drawing and selected the Shamrock Sprint to benefit Hands and Paws for Pasco.
"The Hands and Paws organization is run by a group of angels who tirelessly work to save animals with love and kindness," says Carr. "I donate my time to this cause as it is one of the few organizations truly 100% percent volunteer driven and 100% of the proceeds are devoted to healing and finding forever homes for animals!"
Hands and Paws operates solely on donations to provide critical care for injured animals in county shelters that otherwise might not receive a second chance. The medical services Hands and Paws provide are intended to rehabilitate the animals so they can move on to permanent homes. Learn more about Hands and Paws by visiting their website.
Additional details about the Shamrock Sprint and registration information can be found here.
About eLogic Learning
A leader in the eLearning industry, eLogic Learning offers organizations comprehensive learning technology and content solutions that save costs and increase productivity. The eLogic eSSential LMS supports over five million monthly users and was named a Top 3 LMS by E-Learning 24/7 and Top 20 by Capterra. The eSSential LMS makes it easy to manage eLearning, instructor-led and virtual training events, keep up with regulatory compliance requirements, analyze training usage and results, sell courses online with robust ecommerce features, and much more.
In addition to its Learning Management System, eLogic develops custom eLearning content and provides an extensive third-party courseware library. With a comprehensive turnkey approach to implementing learning strategies, eLogic offers professional services and proven expertise in content strategy, business process change and the development of corporate training programs.