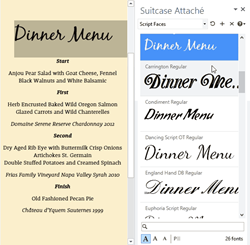 Whether you're creating a corporate presentation or family newsletter, Suitcase Attaché enables you to ignore irritating and desperately dull system fonts like 'Comic Sans' and 'Arial' enabling users to set new standards with bold, strong typography.
Northampton, UK (PRWEB UK) 19 February 2015
Extensis® today announced Suitcase Attaché™, a next generation font menu that unleashes the power of typography in Microsoft® Word and Microsoft PowerPoint®. Available for download today, Suitcase Attaché connects users to all their fonts in a new dynamic panel where they can browse preview and apply fonts directly in these popular applications. Suitcase Attaché immediately expands font collections by enabling access to more than 1200 free fonts from Google® Fonts, opening options well beyond the norm.
"Presentation is everything. And in documents, that boils down to fonts. They set the tone for your story," said Toby Martin, Director of Product Development at Extensis. "Whether you're creating a corporate presentation or family newsletter, Suitcase Attaché leaves Arial to the worker drones and allows users to stand apart with bold, strong typography."
With Suitcase Attaché, users can:

Connect all of their fonts to Microsoft Word and PowerPoint, allowing them to browse, preview and apply fonts with one click
Access more than 1200 free fonts from Google Fonts, which are automatically updated when new fonts are added
Select fonts quickly with Suitcase Attache's visually appealing menu
Say goodbye to the tedious drop down and scroll method of accessing a standard list of fonts
For users of Extensis' professional font manager – Suitcase Fusion® – Suitcase Attaché automatically detects the Suitcase Fusion library and will auto-activate fonts from the collection. Suitcase Fusion users can also browse their full collection directly from Suitcase Attaché.
Pricing & Availability
Suitcase Attaché* is available for download for $20, and is offered in English, French, German, and Spanish. More information and a free 7-day trial download are available here.
Suitcase Fusion 6 Bundle
Customers who purchase Suitcase Fusion 6 will receive Suitcase Attaché for free, in addition to the latest release of FontDoctor ($70 value), the corruption fixing utility which helps keep font problems out of the creative workflow.
*NOTE: Suitcase Attaché is available for Microsoft Word and Microsoft PowerPoint 2007 thru 2013 on Microsoft Windows only.
About Extensis
Celebrating more than two decades in business, Extensis® is a leading developer of software and services for creative professionals and workgroups. Their solutions streamline workflows, securely manage digital assets and fonts, and control corporate typographic branding. Used by hundreds of Fortune 5000 companies, Extensis' award-winning server and desktop products include: Extensis Portfolio™ for digital asset management, Universal Type Server® for server-based font management, and Suitcase Fusion® for single-user font management. Founded in 1993, Extensis is based in Portland, Oregon, and the United Kingdom. For additional information, visit http://www.extensis.com
© Celartem, Inc. d.b.a. Extensis All rights reserved. Extensis and the Extensis logo mark, Suitcase Fusion, Fontspiration, Portfolio, Portfolio NetPublish, Portfolio Flow and Universal Type Server are trademarks or registered trademarks of Extensis in the United States of America, Canada, the European Union and/or other countries. This list of trademarks is not exhaustive. Other trademarks, registered trademarks, product names, company names, brands and service names mentioned herein are property of Extensis or other respective owners.
Microsoft, PowerPoint and Windows are either registered trademarks or trademarks of Microsoft Corporation in the United States and/or other countries.
Google is a registered trademark of Google Inc.