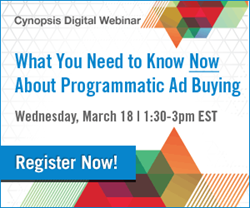 New York, NY (PRWEB) February 16, 2015
Programmatic advertising is changing the way business is run and it's only going to evolve further. Join Cynopsis Digital on Wednesday, March 18 for the interactive webinar "What You Need to Know Now About Programmatic Ad Buying" for the basics and more when it comes to programmatic advertising. You'll learn the essential terms, trends and challenges in this new arena so you'll be ahead of the curve when implementing a programmatic program for your brand.
Cynopsis Digital Associate Editor Jessica Reese will host the March 18 webinar along with experts including Brendan Condon, CEO of Media Properties Holdings, JoAnna Foyle, SVP Client Services & Operations for Adap.tv (a division of AOL Platforms), Jason Lopatecki, Chief Strategy Officer for TubeMogul and Lon Otremba, CEO of Bidtellect.
At this webinar, attendees will learn:

Industry standards around programmatic
Why programmatic promises quicker and greater efficiency compared to more conventional methods
Where programmatic fits in relation to real-time bidding (RTB), guaranteed impressions, and advanced targeting
The challenges facing programmatic in transparency, quality, branding, and accountability
The role data is expected to play in the programmatic playground
How the growth of native advertising fits into the boom of programmatic adoption
This highly interactive webinar will allow for real time Q&A's to ensure your specific questions are answered. Register today for the Cynopsis Digital webinar "What You Need to Know Now About Programmatic Ad Buying."
All webinar attendees will receive full access to speaker presentations for 1 year, along with a certificate of completion. Webinar tuition is based on location, not number of participants, so each registration site can have multiple participants for one low price. Questions? Contact Trish Pihonak at trish(at)cynopsis(dot)com.
About Cynopsis Media:
Cynopsis Media is a division of Access Intelligence LLC. The Cynopsis Media family of products includes Cynopsis, Cynopsis Digital and Cynopsis Sports daily e-publications, weekly Cynopsis Classified Advantage e-publication, Special eReports, Event/Summits and a strong database of Classifieds and more. Visit cynopsis.com.
###