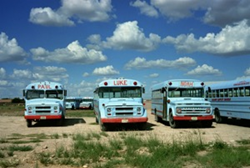 Unlike the film maker, the photographer Wenders dispenses with modern technological means.
Düsseldorf, Germany (PRWEB) February 12, 2015
Famous movie director Wim Wenders was born in Düsseldorf like many internationally renowned contemporary artists, and he has done major fine arts work in photography – two little known facts about Wenders that a new exhibit in his hometown highlights on the occasion of his 70th birthday this year. The exhibit is titled "Wim Wenders. Landscapes. Photographs" and will open at Düsseldorf's Museum Kunstpalast on April 18, 2015, and go through August 16, 2015 (his birthday is August 14, 1945).
Wender's love for photography is at least as strong as his love for movies because he says "Photographic work is the other half of my life," but there is a difference in his expression through the different media: unlike the film maker, the photographer Wenders dispenses with modern technological means. All images in the exhibit – about 80 large-scale photographs and panoramic pictures - are shot in analog photography. Many of the images feature deserted places and landscapes.
Wim Wenders is a major figure in German cinema and was nominated three times for an Academy Award, including a current Oscar 2015 nomination for his documentary "The Salt of the Earth." The previous nominations were also for documentaries ("Buena Vista Social Club" about the Cuban music scene, and "Pina" about the choreographer Pina Bausch). Wenders received major international film awards for several of his movies, including "Paris, Texas," "The State of Things," and "Wings of Desire."
For more information, visit:http://www.smkp.de/en/exhibitions/upcoming/preview-2015.html.
Düsseldorf's tourism office is offering a hotel and city specials for stays in 2015. The package, called "Düsseldorf à la Card," can be booked right from the tourism office's website at https://www.duesseldorf-tourismus.de/en/accommodation/hotel-packages/duesseldorf-a-la-card/. Prices start at €49 per night per person based on double-occupancy for a 2-3-star hotel in the city center and at €95 per person for a 4-star hotel. The package includes breakfast, one DüsseldorfCard (free public transportation within city limits plus 30 free or reduced admissions to city attractions), and a city information package. Please check the website for current information.
# # #
Düsseldorf Marketing & Tourism GmbH is the visitors and convention bureau of the city of Düsseldorf. Its responsibilities include tourism and city marketing, as well as conference and meeting marketing, hotel reservation services, fairs and convention services, city event ticket sales and advance ticket reservations. For more information, visit http://www.visitduesseldorf.de.
Düsseldorf Airport, Germany's Next Generation HubTM, offers several non-stop flights from US & Canadian cities (Atlanta, Chicago, Ft. Myers, Los Angeles, Miami, New York, Newark), as well as convenient connections to many European cities. For more information about the airport, visit http://www.dus.com.