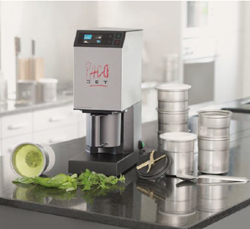 The Pacojet 2 System incorporates state of the art technology and Swiss engineering to provide significantly greater operator value in all aspects of today's modern kitchen.
(PRWEB) February 13, 2015
Conceived and developed originally as a machine to churn ice cream, Pacojet is used today in all areas of the kitchen by chefs around the World. Building upon the popularity, success and innovation of Pacojet 1, Pacojet 2 offers even more.
"The Pacojet 2 System incorporates state of the art technology and Swiss engineering to provide significantly greater operator value in all aspects of today's modern kitchen. We are proud and excited to be the long time United States distributor of the Pacojet," says Jim Hall, co-owner of Advanced Gourmet.
Revolutionary New Features
The new model generation Pacojet 2 offers a clearer, brighter color display with a touchscreen for easier operations. The new pacotizing functionality offers several customizable options in five different languages. The overpressure mode with automatic depressurization can be selected as necessary and portion control set precisely for whole and tenths of portions.
The Pacojet 2 can sense when a pacotizing beaker is overfilled! In such a case, a "recovery process" is started automatically, thus making it possible to process the entire contents of a beaker without waste or need to thaw.
A new "brushless" motor was engineered in Switzerland exclusively for Pacojet 2, which is practically wear-free and significantly quieter, making it perfect for frequent users and for frontline cooking. Pacojet offers a special 5 year warranty on this new motor.
Further new features are the dedicated programs for use with the Pacojet Coupe Set. These special programs are designed for processing fresh, non-frozen foods. Chefs can mince herbs, process farces and mix or whip liquid foods in less than 1 minute - without generating heat.
And after a successful "pacotizing session" Pacojet 2 proves its efficiency again: an automatic, display-driven cleaning procedure takes only 1 minute.
With Pacojet 2, chefs are ideally equipped to meet the current and future needs of professional kitchens. In terms of sustainability, Pacojet intentionally designed the new Pacojet 2 model to accommodate all Pacojet 1 accessories without exception.
About Advanced Gourmet
Advanced Gourmet was founded and is led by three frozen dessert industry innovators, Jim Hall, Jim Marmion and Wally Becker with a primary goal of providing the most advanced equipment solutions and services for the professional kitchen and specialized applications throughout the United States. Advanced Gourmet is the exclusive importer and distributor for Pacojet AG within the USA.
This founding team served in executive and managerial positions with well-known manufacturers of equipment designed for the food service industry and the modern kitchen. Their vast experience creates the foundation for their passion to provide expert guidance, high quality products, and superior, high quality support to all their clients.
Serving as the exclusive importer of fine brands like the Pacojet, Advanced Gourmet has built the most prestigious line of specialty dessert and savory equipment available in the USA.
Please contact Advanced Gourmet for images and support materials.
http://www.PacojetUS.com
http://www.AdvancedGourmet.com
About Pacojet - When cooking became Swiss
Over 20 years ago, Pacojet began its journey to become today's global market leader with its unique system for processing fresh, frozen and fresh, non-frozen foods –with practically end- less possibilities. Pacojet is now well established as an indispensable gourmet device in the kitchens of the best restaurants and catering facilities around the World.
Pacotizing intensifies the natural, intrinsic flavors of foods, natural colors are preserved in their vibrancy and the resulting texture is ultra-fine. These creamy final products with a fine consistency serve as bases for savory and sweet creations.
The factors of time savings, lowering costs and reducing food waste add to making Pacojet an economically attractive investment.
Pacojet is manufactured exclusively in Switzerland. Pacojet's high precision machinery and superior quality ensure consistent performance and long life. http://www.pacojet.com