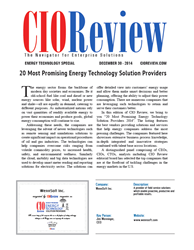 Every day, our solutions are creating measurable improvements for our customers in the energy industries
New Berlin, Wis. (PRWEB) February 13, 2015
WennSoft is honored to be included among this elite group of vendors dedicated to providing the solutions that energy companies need to manage and grow their business. Companies were chosen for the list by a distinguished panel of CEOs, CIOs, CTOs and other analysts, who selected candidates for their extensive business process knowledge, talent base and in-depth strategies.
"We're thrilled to be recognized for the quality of the solutions we've developed to help our customers better manage their operational processes," said Julie West, WennSoft president/COO. "Every day, our solutions are creating measurable improvements for our customers in the energy industries."
WennSoft offers innovative field service solutions for companies that focus on management, installation, service and maintenance of assets. WennSoft helps companies optimize their operations and increase profit margins by offering a complete solution that ensures that supplies, equipment and people are where they need to be, while providing the data visibility needed to drive better decision-making. Plus, WennSoft maintenance solutions allow businesses to keeping everything in working order, extending the life of equipment, controlling costs and keeping the energy flowing.
WennSoft solutions target two primary areas within the energy sector: power generation, and oil and gas field services. Companies in those industries are increasingly seeking to both streamline their processes and reduce costs and rework. To do so, more and more of those companies are turning to WennSoft for mobile enablement of field technicians and customer portals.
The mobile solutions that WennSoft provides offer a unique store-and-forward technology that allows work captured by field technicians to be saved, then sent back to the office once they're back in Wi-Fi or cellular range, so even areas of limited connectivity aren't a problem. WennSoft portal solutions offer the ability for a company's customers to access information about their assets, equipment and more.
Because one size does not fit all, WennSoft solutions are built on a foundation of choice and flexibility. They can be deployed on premises or in the cloud, and they allow technicians to use multiple devices, across multiple operating systems. Solutions are also extensible and can easily be sized up or down depending on current business needs.
About WennSoft
Connections across the organization are key for those who want to better manage installation, maintenance and repair processes. WennSoft delivers innovative field service solutions that streamline operations from sales to the field to accounting, arming customers with the insight they need to do their work more proactively, productively and profitably. For more information, see http://www.wennsoft.com