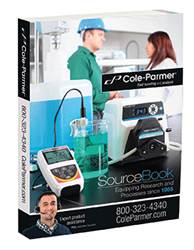 Vernon Hills, IL (PRWEB) February 12, 2015
Scientists, technicians, and lab managers have a new source for the research and process instruments they need. The Cole-Parmer® SourceBook is now available with more than 1,000 pages of products and technical data covering fluid handling and analysis, electrochemistry, and general laboratory items.
The SourceBook features leading brands such as Masterflex® peristaltic pumps, Oakton® water quality instruments, Digi-Sense™ temperature and environmental monitoring meters, and InnoCal® calibration services. A wide range of laboratory instruments and supplies, safety products, filtration, and flowmeters enables buyers to purchase everything they need with minimal effort. Plus, selection guides and reference tips make choosing the most application-appropriate item easy.
To request a free copy of the Cole-Parmer SourceBook, call 800-323-4340 or visit ColeParmer.com/21358.
Cole-Parmer has been a leading global source of laboratory and industrial fluid handling products, instrumentation, equipment, and supplies since 1955. Our product lines, including popular brand names such as Masterflex®, Oakton®, Digi-Sense™, and more, are sold through company-owned customer channel outlets and a strong network of international dealers. We also feature an ISO-17025-accredited metrology lab for instrument calibration and repair. Cole-Parmer responds with excellence to customer needs, and offers application expertise and technical support. For more information, contact Cole-Parmer, 625 East Bunker Court, Vernon Hills, IL 60061. In the US, call 800-323-4340. International customers, call 847-549-7600. Visit us at ColeParmer.com.